Sanchez Says He Won't Sell Out Spain to Catalan Separatists
(Bloomberg) -- Pedro Sanchez urged an end to political gridlock and pledged to prevent the breakup of Spain as he began his bid to form a new government, an effort that will depend on support from a party seeking independence for the region of Catalonia.
Sanchez, Spain's acting prime minister, needs to win the endorsement of the 350-seat chamber in a voting process that will continue until Tuesday. He is likely to lose a first vote slated on Sunday, but after 13 deputies from the pro-independence Esquerra Republicana de Catalunya agreed to abstain, victory in Tuesday's second vote looks assured.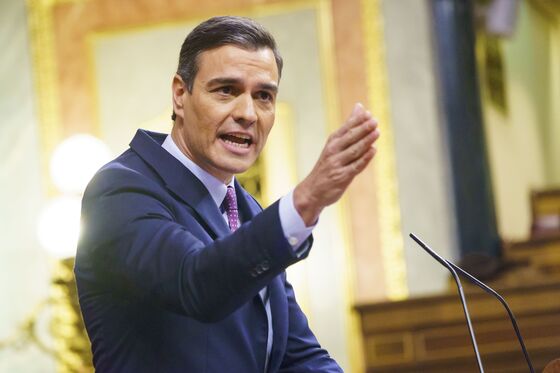 "Spain is not going to break up; the Constitution is not going to break up," Sanchez, 47, said in a speech lasting almost two hours that kicked off the parliamentary debate. "What will break up is the blockade of the progressive government that Spaniards democratically elected."
Spanish politics has been in stalemate since Sanchez dissolved parliament and sparked the first of two inconclusive general elections in April. With parliament split among five major parties and a medley of smaller regional groups after a second vote in November, Sanchez turned to Esquerra to make the arithmetic work in his favor after signing a coalition pact with Podemos.
Sanchez sprinkled his speech with pledges to resolve the dispute in Catalonia sparked by the failed attempt in 2017 by separatist parties to split from Spain. He promised to set up mechanisms for negotiating with the pro-independence Catalan government to "put an end to the conflict" within the bounds of Spain's Constitution.
"Today there exists in a wide sector of the Catalan population a sense of grievance at central institutions," Sanchez said, adding that many in Catalonia in northeast Spain also feel let down by the region's pro-independence politicians.
"It's clear that in our country, there does not exist a single way of living or feeling national identity," he said. "We need to start again."
He also outlined the main terms of the political program he struck with Podemos under their planned coalition, a form of government not tried in Spain since before the country's 1936-1939 civil war. His pact with Podemos commits him to tax increases for the highest earners and large companies, a higher minimum wage and tighter protection for workers, rolling back some of the labor reforms enacted in 2012 at the height of a financial crisis.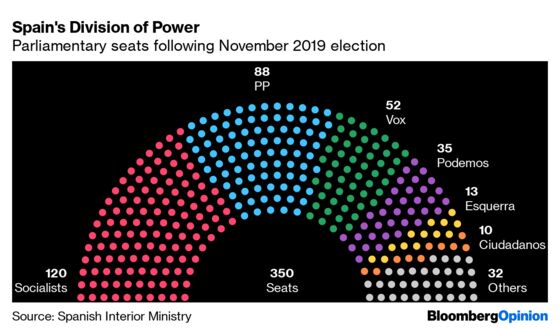 As Sanchez tries to steer his government project through Parliament, he has been coming under fierce attack from the conservatives of the PP and Vox, a far-right party, who accuse him of betraying the constitution.
"We will vote against this clandestine investiture, this Christmas treason, this ambush of the constitution being committed today in Parliament," Vox leader Santiago Abascal said.
In an unexpected twist, Ana Oramas, a deputy for the regional Coalicion Canarias group, broke party ranks to say she would vote against Sanchez rather than abstain. Even so, assuming nothing else changes, Sanchez is still on course to win the decisive vote on Tuesday by a simple majority of 167 in favor to 165 against.
The investiture debate marks the latest attempt to mend a political system that fractured in 2015 when former People's Party Premier Mariano Rajoy lost the parliamentary majority he had won four years earlier. Sanchez ousted Rajoy in a 2018 confidence vote but has struggled to impose his authority at the head of a minority government.
"We will do everything in our power so that this time of nightmare is as short as it can possibly be and do the least damage," PP Leader Pablo Casado said in response to Sanchez. "You have put yourself definitively on the wrong side of history -- but you can't take us or Spain with you."
November's elections left him in a similar bind as his Socialists once again emerged as the biggest party but short of the parliamentary support needed to govern. To break the deadlock, the Socialists this week sealed a deal with Esquerra that, last-minute hiccups notwithstanding, should give him enough votes to form a government.
Negotiations with the Catalans have proved complex right up to the last moment. Late on Friday, Spain's electoral board voted to strip Joaquim Torra, Catalonia's separatist president, of his status as regional deputy.
The decision, which threatens to hasten new elections in the region, provoked a fresh bout of outrage among separatist supporters. Torra called an extraordinary meeting of the Catalan parliament to condemn the decision. Even so, Esquerra's leadership on Saturday reaffirmed its commitment to abstain in Tuesday's vote to allow Sanchez to govern.