San Francisco Bay Area Reinstates Mask Order as Virus Surges
(Bloomberg) -- San Francisco and its surrounding counties are reinstating mask requirements in indoor public spaces for all individuals, regardless of vaccination status, after a surge in Covid-19 cases in recent weeks.
Seven counties in the Bay Area adopted the new orders, including Silicon Valley's Santa Clara and San Mateo, along with the city of Berkeley. The mandate takes effect Tuesday at 12:01 a.m.
The region joins areas including Los Angeles and Washington in instituting more stringent mask rules following a rapid jump in cases, while the U.S. Centers for Disease Control and Prevention has updated its guidance to urge all people to wear facial coverings indoors. In New York, Mayor Bill de Blasio said Monday that the city will strongly recommend masks in indoor settings, but stopped short of a mandate.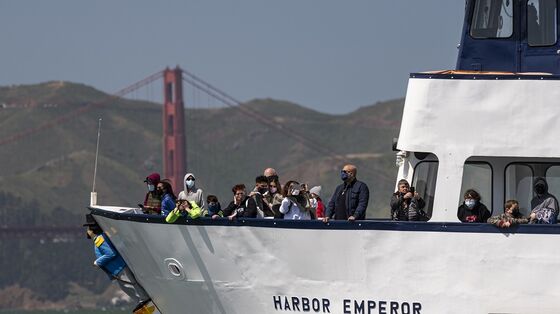 The highly contagious delta variant of the coronavirus has pushed up case counts since California fully reopened its economy in June, with hospitalizations now at their highest level in almost five months. Bay Area health officials said Monday that requiring masks indoors -- including in offices, restaurants, bars and gyms -- could help stop transmission of the virus without shutting down businesses.
"None of us wanted to be here, but the virus has changed," George Han, deputy health officer for Santa Clara County, said in a press conference Monday. "If you're in an indoor space with people you don't live with, it will find a way to get you."
Unvaccinated people account for the large majority of those now hospitalized with Covid-19 in the Bay Area, health officials said. But the realization that the delta variant can infect fully vaccinated people, and that those people can transmit the disease, helped prompt the new mask mandate. Sonoma County Health Officer Sundari Mase said fully vaccinated residents account for 20% of her county's current cases, even if most of them have mild symptoms or none at all.
"This is not the same virus we were combating last year, or even a few months ago," she said.
Large tech companies in the Bay Area have been shifting their return-to-office requirements in response to rapidly rising cases. Alphabet Inc.'s Google last week delayed its planned office return to October and said all workers on its campuses must be vaccinated, as did Uber Technologies Inc. Twitter Inc., based in San Francisco, shut down offices that it had recently reopened.