Salvini Visits Moscow Pledging to Fight EU Russia Sanctions
(Bloomberg) -- Italian Deputy Premier Matteo Salvini visited Moscow Wednesday to drive home one of his favorite points: that European Union sanctions on Russia hurt Italy and should be repealed.
"The Russian sanctions are a social, cultural and economic absurdity," Salvini told the annual meeting of the Russian branch of Italy's main business lobby Confindustria, repeating the same lines he's used in at least two occasions the past few days. "We hear that Europe wants to accelerate things with an automatic renewal, without asking the opinions of members states. If they ask us to swallow such a thing, we will simply say no."
The sanctions regime "makes no sense and produces no positive effect," Salvini said. "It will end, in six months, in a year, I don't know."
Salvini's office says he's on a private trip. No meetings with Russian leaders are scheduled and he's due back in Italy Thursday.
Prime Minister Giuseppe Conte follows Salvini with an official visit to Moscow on Oct. 24, where he's expected to meet with his counterparts from the Russian administration.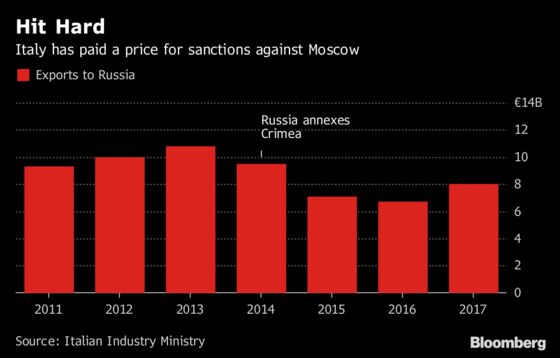 Italy's previous government, swept from office in March's election, went along with several rounds of sanctions imposed after Russia annexed Crimea and intervened in eastern Ukraine in 2014, though it too grumbled about the effect on exporters.
Salvini, whose power base is small businesses in the export-oriented north of Italy, opposed the sanctions before forming a government in June and has continued to criticize them since. Coalition partner Five Star has also spoken out against the costs to Italy of the Russia sanctions. Salvini has repeatedly denied Italian media claims that his party receives Russian financial support, and said at a press conference in Moscow Monday that he didn't think Russia has any intention of meddling in next year's European parliament elections.
In his speech, Salvini said "there's no country more European than the Russian federation," and contrasted the rejection of Russia with what he said were EU efforts to bring in Turkey as a member. "Here I feel at home, in some European countries, no."
EU membership talks with Turkey have been at standstill for years and no EU member is pushing for them to resume.
Italian exports to Russia peaked at 10.8 billion euros ($12.5 billion) in 2013, before tumbling 37 percent to 6.8 billion in 2016, according to Italy's Industry Ministry. They rebounded to 8 billion euros in 2017. Imports from Russia fell 39 percent from 2013 to last year.
Russia is Italy's 14th largest export market, accounting for just 1.5 percent of total exports so far this year. At the 2013 peak, Russia took 2.3 percent of Italian exports.
Salvini said human rights wasn't the motive behind the Russian sanctions, and that other countries have gained market share while Italy's has fallen. "Any reference to our French friends is purely unintentional," he said.
France exported 5.57 billion euros to Russia in 2017, down 39 percent from its 2012 peak, according to French customs bureau.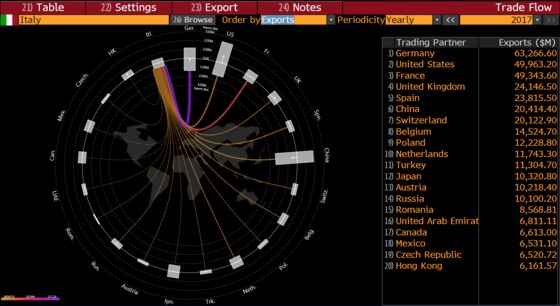 The EU's economic penalties against Russia have been prolonged most recently until next Jan. 31, a separate set of asset freezes and travel bans runs until at least March 15.
Conte, an academic chosen to mediate between the League and Five Star, struck a more measured tone ahead of his own visit. He told the Senate on Monday that EU relations with Russia must be "firm but with dialogue."
"Sanctions solely for the sake of sanctions only damage our companies and Russian civil society," he said, appealing to the EU to help small and medium companies hurt by the measures. "We must maintain EU unity relations with Russia."