Sainsbury CEO Coupe Leaving as Retail Head Roberts Steps Up
J Sainsbury Plc Chief Executive Officer Mike Coupe is stepping down and will be succeeded at the helm of the U.K. grocer by retail head Simon Roberts.
The move comes less than a year after the collapse of a planned purchase of Walmart Inc.'s Asda, as Sainsbury and other British supermarkets struggle with fierce price competition from discounters and a shift to online shopping.
The shares fell as much as 1.7% early Wednesday in London and they've declined 24% over the past 12 months.
Roberts, 48, joined Sainsbury as retail and operations director in July 2017 and previously worked at Marks & Spencer Group Plc and drugstore chain Boots. Coupe, 59, has been CEO for almost six years and will continue in the role until May, when he'll retire.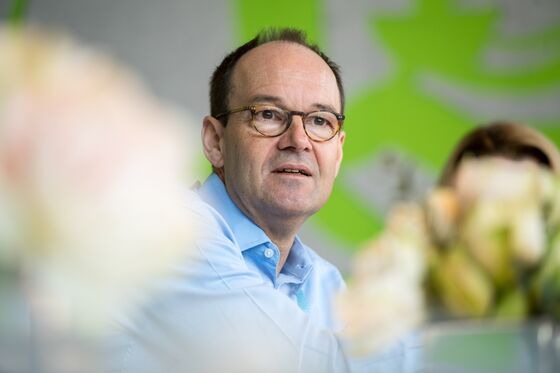 The move accelerates a changing of the guard at the top of U.K. retailers, after Tesco Plc CEO Dave Lewis announced his departure in October. Roberts had been seen as a leading contender for the top job at Sainsbury, alongside Chief Financial Officer Kevin O'Byrne, who previously worked at variety store chain Poundland.
On Tuesday, Coupe told employees that Sainsbury would cut hundreds of management jobs as part of a plan to merge the commercial, retail, finance, digital, technology and human resource teams of the Sainsbury supermarket and Argos electrical chains.
British grocers, including Tesco, Wm Morrison Supermarkets Plc and Asda, have cut thousands of jobs during the past few years in a bid to become more efficient and face competition with German discounters Aldi and Lidl.
Like other U.K. retailers, Sainsbury had a weak Christmas season, held back by poor sales of toys, which took the shine off gains in its online grocery business.
The collapse of the Asda deal, through which Coupe sought to gain purchasing clout and create a U.K. supermarket operator to rival Tesco in scale, marked Coupe's biggest setback. Previously he acquired catalog retailer Argos, diversifying the country's second-largest grocer.
In September, Sainsbury announced a new strategic plan involving supermarket closures and cost-cutting, as well a move to expand its lineup of convenience outlets.
There isn't any suggestion that the plan will be reviewed, "suggesting continuity on this front," analyst James Grzinic said in a note.