Qatar's Ezdan Commits to Repay Debt as S&P Warns of Default
(Bloomberg) -- Ezdan Holding Group said it's finalizing a bank facility to fully repay its $500 million sukuk maturing in May after S&P Global Ratings said the Qatari property developer faces the risk of a default or debt restructuring.
"The company is currently in the final stage of finalizing a facility agreement with a major bank for repayment of sukuk 2021 fully," it said in a statement on Friday. Ezdan said it plans to repay another $500 million sukuk maturing in April 2022 mainly through operating cash flows and bank balances.
Bonds of Ezdan slumped Thursday after S&P cut the company's ratings to CCC from B- with a negative outlook, citing it reflected narrowing liquidity and high debt balances that could lead to a distressed exchange, debt restructuring or default over the next 3-12 months.
The company's dollar bonds due in May slid by 6.6 cents to 90.45 cents on the dollar on Thursday, the biggest decline in about 10 months.
"Ezdan confirms and is committed that the cash and bank balances, cash flows from operations, and the credit lines available to Ezdan will be sufficient to repay sukuk maturing in May 2021 and April 2022," it said.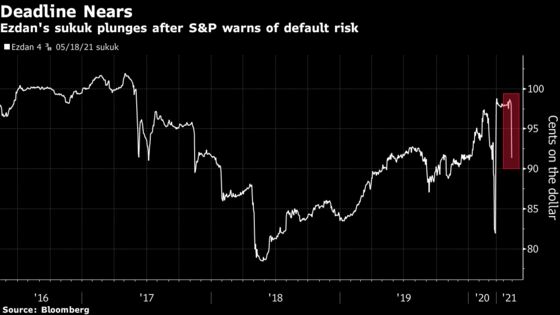 The developer's shares slumped 8% in early trading on Thursday, before trimming losses to 2.1%. The stock has underperformed Qatar's main stock index so far this year.
Tadawul Holding Group, Thani bin Abdullah Al Thani and Imtilak Real Estate own 94% of Ezdan's shares, according to data compiled by Bloomberg.
"Without a committed refinancing plan or an equity contribution from its shareholder, we do not believe that Ezdan has sufficient cash or liquid assets on its balance sheet to repay its debt," S&P said.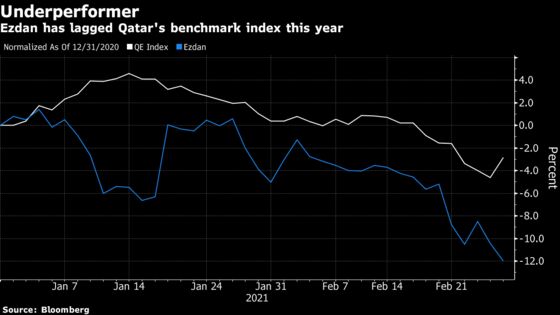 Abdul Kadir Hussain, the Dubai-based head of fixed-income asset management at Arqaam Capital, said Thursday it's not clear that a default is the only option for Ezdan.
"Ezdan has struggled with a difficult market in Qatar due to the pandemic and prior to that the boycott," he said. "However, the boycott is over and the pandemic situation will improve with vaccines, so the outlook is definitely better for the company."
S&P expects Ezdan's operating performance to "improve slightly" in 2021-2022, but not enough to materially reduce the very high leverage.