S&P 500 Firms Declared Record Dividend Payouts Last Quarter
(Bloomberg) -- One-third more S&P 500 companies boosted dividends in the second quarter compared to a year earlier, with record dividend payouts of $124 billion declared overall. Tax reform, positive earnings and results from a second round of the Federal Reserve stress tests contributed to 89 S&P 500 companies boosting dividends in the second quarter versus 67 firms a year ago.
Citrix Systems declared a dividend the first time, with a payout of 35c
Lam Research, Hewlett Packard Enterprise, Wynn Resorts, Ralph Lauren and Starbucks were among firms that accelerated dividend payouts
Pentair and Scana announced dividend cuts
Dr. Pepper Snapple announced special dividend of $103.75 due to merger activity.
43 companies retained the 'aristocrat' status of 25 years of consecutively increasing dividends yearly.
Bloomberg estimates that an additional 75 companies will boost dividend payments this quarter.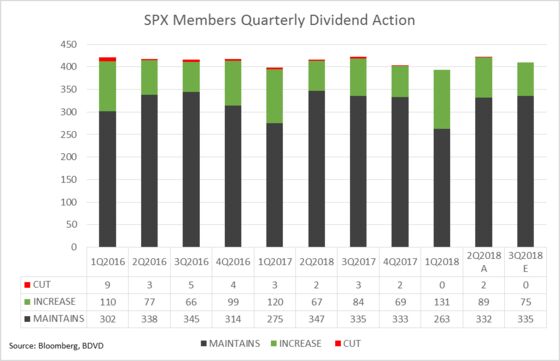 To access the dividend report, BPS, click on "Derivatives", then "Dividend Forecasting", then S&P 500 Index BDVD Quarterly report.