S&P 500 Dividend Growth Comes to a Halt in Year After Tax Cuts
(Bloomberg) -- Dividend growth in the S&P 500 has come back to Earth.
Companies in the benchmark index expanded payouts by an average of 8 percent after the approval of the Trump corporate tax cuts. A year later the average growth rate has been a pedestrian 2 percent.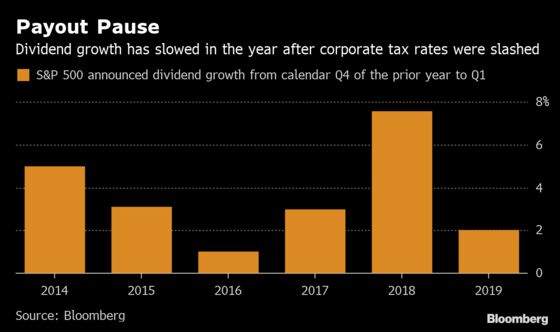 Perhaps it's not surprising that last year's ebullience couldn't last, but this year's pace is just half of the prior five-year average (or a third less than the four-year average if you exclude 2018).
Consider that last year, 12 companies announced dividends that were 50 percent or greater than the prior quarter. Oil drillers Anadarko Petroleum Corp. and Pioneer Natural Resources Co. topped the list last year as they raised their dividends by 400 percent and 300 percent, respectively.
This year? The biggest hike so far is Home Depot Inc.'s 32 percent increase.
And don't blame dividend cuts for the average drop. While Kraft Heinz Co. announced a dividend cut of 36 percent in February, it was one of only two S&P 500 companies, L Brands Inc. being the other, to announce dividend cuts so far this quarter. That's the same number of cuts that occurred in 2018.
"The drop was largely expected following the boost from tax reform," said Bloomberg Intelligence equity strategist Peter Chung. "Going forward a low-single digit rate of growth for dividends is about in line with expectations given trends in corporate distributions over recent cycles."