S&P 500 Below 2,710 Could Herald Correction, Evercore ISI Says
(Bloomberg) -- The S&P 500 Index's fall below this month's lows could put it on track to complete a 10 percent correction, according to Evercore ISI's head of technical analysis.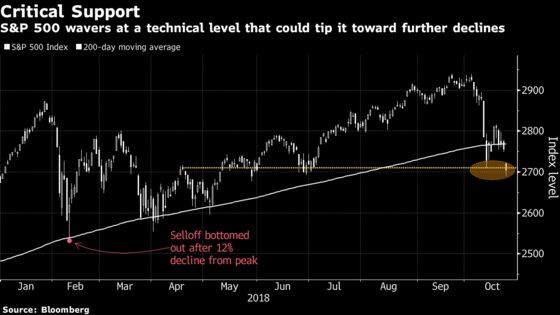 Rich Ross, who earlier this month predicted a V-shaped bounce from the Oct. 11 low, said Tuesday that a retest of that level was not part of his call for the steady comeback. Now, while 2,710 remains "a level," with the ongoing collapse in cyclical stocks and an overnight reversal in China, "conviction is low and I would not overplay that level in isolation absent a compelling surge off a panic Double Bottom low at 2,710," he wrote in a research note.
Concern that corporate profit growth has peaked sent U.S. equities tumbling Tuesday, with the S&P 500 trading as low as 2,691.43 after falling as much as 2.3 percent. Ross pointed out that a similar break to a new intraday low marked the bottom of February's correction.
"That move from a more extreme level was 12 percent," he wrote. "This move is 8 percent. As such, a break below 2,710 could open the door to another 2 percent down to complete a textbook 10 percent decline."