S. African Health Minister Urges Review of Virus Restrictions 
(Bloomberg) -- South Africa's health minister called for stricter measures to curb the spread of Covid-19 after a new strain of the virus helped to spur a record increase in the number of infections.
The U.K. temporarily banned flights from South Africa after recording two new cases of the variant. Turkey is among other countries that instituted similar restrictions, while Guinea stepped up controls for travelers from Africa's most industrialized economy. The mutation, known as 501.V2, has increasingly dominated samples from the past two months.
"We must warn South Africans that we will need to review the current restrictions and consider further measures to ensure that we curb this alarming rate of spread," Zweli Mkhize, the minister of health, said in a statement. "The rate of spread is much faster than the first wave and we will surpass the peak of the first wave in the coming days."
Shutting down larger parts of the country during the holiday season will deal a hammer blow to an economy that was in recession even before the pandemic struck. Unemployment is at a 17-year high and business and consumer confidence continue to languish near multi-year lows.
The rand fell as much as 0.6% against the dollar, the only emerging-market currency to weaken against the greenback on the day. It pared losses by 0.5% to 14.6716 per dollar by 1:34 p.m. In Johannesburg.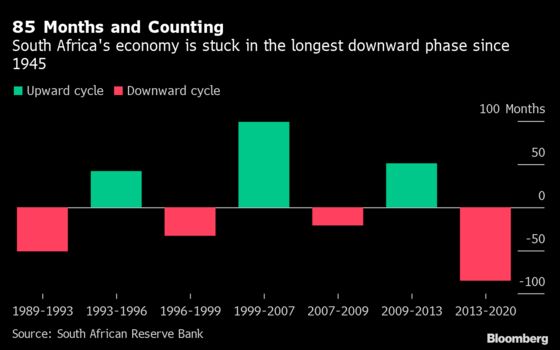 The country reported 14,046 new daily cases on Wednesday, the biggest jump yet, bringing the cumulative number to 954,258. A further 411 coronavirus-related deaths were reported, taking the total to 25,657 since the pandemic struck the country in March, according to the statement.
Private hospital operators have already warned that they are facing severe capacity constraints due to the resurgence in coronavirus cases.
The government on Dec. 18 announced the new lineage, saying it spreads faster than other variants, with smaller amounts of the mutation needed to infect people.
It was first identified in Nelson Mandela Bay but has rapidly spread through the rest of the Eastern Cape and to the Western Cape and KwaZulu-Natal. Testing in other provinces is being undertaken to understand the extent of geographical spread.
The government will evaluate the situation across the different regions, identify hotspots in these areas and make recommendations based on the findings of what has to be implemented, Mkhize said.