South African Central Bank Confirms It Referred Capitec Probe to Credit Regulator
(Bloomberg) -- South Africa's central bank confirmed that it had asked the country's credit regulator to look into an allegation made by a short-seller that Capitec Bank Holdings Ltd. continued to use its so-called multi-loan product, which has been criticized for its fee structure.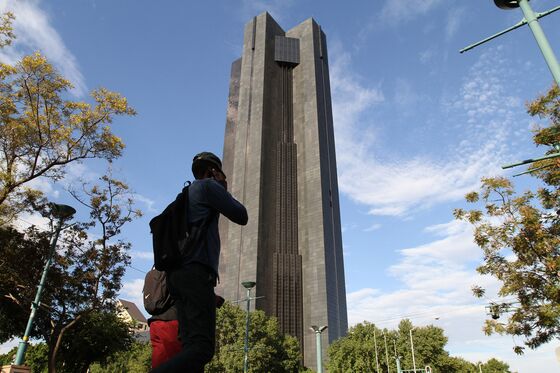 The continued use of the multi-loan product is a market-conduct issue and falls within the responsibilities of the National Credit Regulator, the Pretoria-based bank said. "The SARB met with the NCR and requested that the regulator take the matter forward," it said, without giving details on timing. The NCR has declined to comment.
Capitec hasn't been contacted by the NCR since the Reserve Bank referred the matter to the credit regulator, Chief Financial Officer Andre du Plessis said in an emailed response to questions on Wednesday. Capitec was present at the hearings on May 30 and the central bank's referral to the NCR was a matter of it recognizing the credit regulator's jurisdiction in governing the behavior of lenders, he said.
While Capitec said it terminated the product in 2016 because rules introduced by the NCR meant it was no longer viable, Viceroy said that the lender rebranded it and that Capitec's methods risk leaving customers with too much debt. Capitec said at the time that Viceroy did not understand the product or how its processes work.
The NCR had previously probed the multi-loan facility and was satisfied with the fees and interest charged, Capitec said on Feb. 8.
The central bank, responding to Viceroy's other two allegations, said it found that the Stellenbosch, South Africa-based provider of unsecured loans had adequate capital and liquidity and it found no indication that rescheduled loans "were used to hide non-payment and boost new lending."
On March 20, Kuben Naidoo, a Reserve Bank deputy governor who oversees the regulation of the country's lenders, told parliament that the Viceroy allegation was that the multi-loan product effectively charged people an origination fee multiple times to increase the average margin of the loan.
"That is something the National Credit Regulator is looking into and is investigating," he said at the time, according to an audio recording of proceedings. "I won't comment on that."
On May 30, he told parliament that the multi-loan product was an issue for the NCR and the regulator would deal with it, according to a recording. Capitec representatives were present at both parliamentary hearings.