Rwanda Keeps Key Rate Unchanged as It Starts Targeting Inflation
(Bloomberg) -- The Rwandan central bank left its benchmark rate at a record low as it started targeting inflation.
The central bank rate was retained at 5.5 percent, where it's been since December 2017, as the regulator doesn't foresee any shocks to inflation or the exchange rate, Governor John Rwangombwa told reporters Thursday in the capital, Kigali. He was reappointed for a second six-year term last month.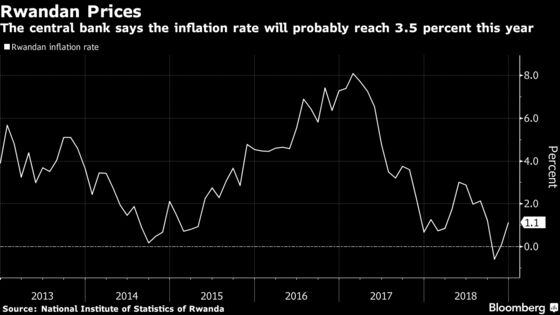 The central bank introduced a price-based monetary framework this year, preferring inflation in a range of 2 percent to 8 percent, and using interest rates instead of money supply to achieve this. The bank would like to see the rate close to 5 percent, according to Thomas Kigabo, its chief economist.
Consumer-price growth accelerated to 1.1 percent in December from 0.1 percent in November. The rate will probably reach 3.5 percent this year, Rwangombwa said.
Rwanda's economy is forecast to expand 7.9 percent this year, according to the central bank.
"We don't have to loosen because with the current stance, it creates enough liquidity in the market," Rwangombwa said in an interview after the announcement. "And we don't have to tighten because we need banks to continue supporting the economy as we also have favorable inflation conditions."