Russian Virus Cases Reach 200,000, and German Infections Slow
Russia reported more than 10,000 new Covid-19 cases for an eighth straight day, complicating plans to restart the ailing economy even as nations from Germany to Italy begin easing lockdowns.
There were 11,012 new cases in Russia, Europe's new coronavirus hotspot, raising infections to 209,688, the government said on Sunday. In the last 24 hours, 88 people died, bringing the total to 1,915 deaths. The World Health Organization said the outbreak may be nearing it's peak.
"The cases are still there but the growth rate is stabilizing," Melita Vujnovic, the head of the United Nations health agency's office in Russia, said in a phone interview. "We do hope, looking at the last few days, that it is on a plateau."
As Russian cases spiral, Germany had the fewest new infections in five days and the lowest number of fatalities in more than a month, data from Johns Hopkins University showed on Sunday. Deaths in the United Kingdom, Italy and Spain also fell to the lowest since March. France reported just 70 new deaths, the fewest since the start of a lockdown almost two months ago.
Russia now has the fifth-largest number of reported cases globally, Johns Hopkins data show, and looks likely to surpass Britain, Italy and Spain in the coming week. The burgeoning outbreak led President Vladimir Putin to caution regional governors last week against rushing to ease lockdowns, even after economic activity shrank by a third since widespread restrictions went in place at the end of March.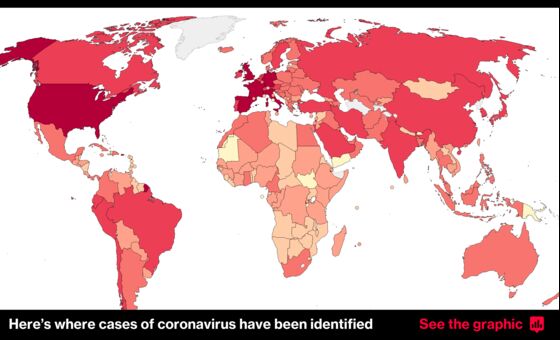 Despite more than 160,000 deaths on the continent, European leaders are feeling pressure to quicken steps to pull the economy out of its nosedive. France will start rolling back lockdown measures on Monday, joining neighbors in gradually easing restrictions.
French Prime Minister Edouard Philippe said last week the country was ready for a nationwide plan to relax curbs on public life, though strict controls will remain on public transport in Paris, where infection rates are too high. Looser restrictions on businesses and stores will start coming into effect on Monday.
Germany took its biggest step yet to ease restrictions last week as it made plans to allow restaurants and shops to open and for the resumption of professional soccer matches. Social-distancing rules will stay in place until at least June 5, and curbs may be reinstated locally if outbreaks emerge.
Spain's government has authorized a further partial easing of restrictions from Monday for areas of the country where about half its population lives as health officials make further progress in containing the virus.
Under the more relaxed rules, hotels and smaller-sized shops will be able to reopen while bars and cafes will be able to offer service to controlled groups of customers sitting at outside tables. The easing so far does not apply to major cities including Madrid and Barcelona.
Italy may move to speed its loosening as both the death toll and new cases moderate. Daily deaths from the virus fell to 165, the fewest since mid-March and there were only 802 new cases reported Sunday, down from 1,083 the day before.
Prime Minister Giuseppe Conte may further ease earlier than planned, he told Corriere della Sera. The government partially relaxed the lockdown on May 4, allowing manufacturing and construction companies to restart, with shops due to reopen on May 18 and bars, restaurants and barbers scheduled to begin operating again on June 1, a date that may now be brought forward.
In the U.K., Prime Minister Boris Johnson will unveil a new virus alert system, similar to how the government currently communicates terror threat levels, in a Sunday address that will set out some of the conditions for loosening restrictions on the economy. Communities Secretary Robert Jenrick told the public not to expect Johnson to announce "a grand reopening."
A scientific adviser to the government said last week there are about 20,000 new cases of coronavirus every day across the U.K., far higher than the official number of about 4,000 revealed by Covid-19 testing in recent days. The U.K. reported another 269 Covid-19 deaths on Sunday, bringing its total to 31,855, the most in Europe.
The new alert system to be rolled out in the U.K. will have five levels, ranging from one (green), which would enable life to return to normal, to five (red). England, where London is located, is on the verge of improving from level four to three, which indicates that the Covid-19 infection rate isn't increasing significantly, Johnson is expected to say. A new mantra is also set to make its debut: "Stay alert, control the virus and save lives."
Johnson will urge workers and businesses to stay alert by following social distancing rules, potentially angering some backbenchers in his Conservative Party who want a swift end to the lockdown.
Still, some officials said the new advice to "stay alert" versus its earlier message to "stay home" was confusing. Scottish First Minister Nicola Sturgeon called the slogan "vague and imprecise," and said her administration would be sticking to its guidance for people to stay at home.