Russia Drops Bond Sale for Third Week in Bid to Stabilize Market
(Bloomberg) -- Russia's finance ministry said it will cancel this week's regular sale of ruble bonds even as the currency steadies after a rout last month sent it to the weakest level in more two years.
No auction will be held on Sept. 19 in order to help "bring stability to the debt market," the finance ministry said in a statement posted in its website. The move chimes with the wary stance taken by Russia's central bank late last week, when it unexpectedly chose to raise interest rates to limit potential future inflationary risks.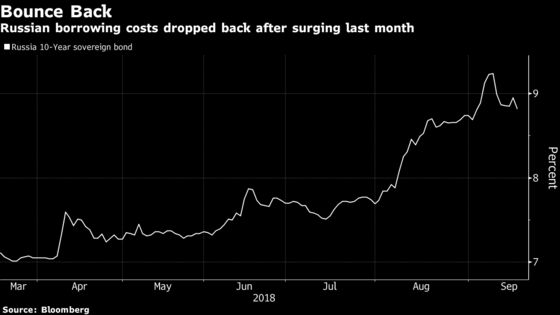 Russian policy makers are opting for caution in the face of new sanctions being discussed in Washington. In their harshest form, the penalties could block sales of new sovereign debt and shut the nation's biggest banks out of the global financial system. With high oil prices boosting revenue from oil exports, the finance ministry can easily afford not to push ahead with sales.
"I don't see anything bad about this decision," said Andres Vallejo, head of trading at National Asset Management in Moscow. "There won't be any threat to the budget even if they keep skipping auctions until the end of the year."
A "miserly" 1 billion rubles ($15 million) of bonds remains to be redeemed by the end of the year, Konstantin Vyshkovsky, head of the Finance Ministry's debt department, said earlier this month.
Yields on OFZs maturing in 10 years dropped 11 basis points on Tuesday to a two-week low of 8.84 percent. The ruble was the best-performing currency in emerging markets, advancing 0.6 percent and heading for its strongest close this month.
South Africa proved in its weekly auction on Tuesday that appetite is returning for emerging-market nations prepared to sell at higher prices. Demand was the highest in four weeks, and more than double the average since March.