Russia's Love of Chocolate Is Helping Tighten World Cocoa Market
(Bloomberg) -- Russia's fast-growing appetite for chocolate is helping to boost global cocoa demand, according to Barry Callebaut AG.
Chocolate consumption in the world's second-biggest market for the candy expanded almost four times the global rate in the nine months through April, the Zurich-based processor said. That comes as robust demand is expected to push the cocoa market move into a slight deficit after two years of oversupply.
While Russia has long been the No. 2 chocolate confectionery market, after the U.S., demand started to pick up last year after the ruble stabilized. That stopped the increase in retail prices and allowed consumers to resume buying more expensive foods or treats, said Elizaveta Nikitina, executive director of the Confectionery Market Research Center in Moscow.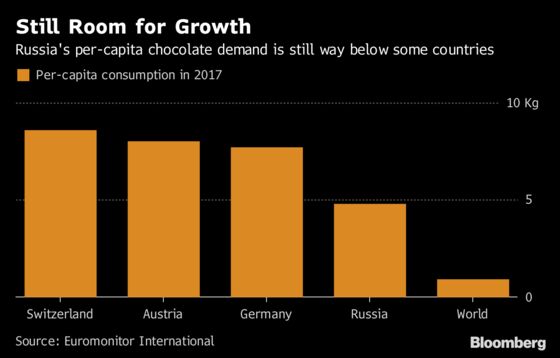 "We expect the chocolate market to continue to grow in Russia," Massimo Garavaglia, Barry Callebaut's president for Europe, Middle East and Africa, said in an interview. "This is definitely increasing the demand for cocoa beans in the world."
In Russia, much like the rest of the world, producers are expanding the use of chocolate flavor in pastry, ice cream and dairy products, Garavaglia said. In a bid to make candy bars more appealing, companies including Nestle SA are turning to new flavors or gimmicks to attract consumers who are increasingly shunning sugary products for healthier treats.
The cocoa market is now set to tighten, after two years of bumper crops led to global surpluses that kept prices under pressure. The market will probably be in a slight shortage of 50,000 metric tons in the season that just started, according to a Bloomberg survey of traders, brokers, analysts and exporters.
Barry Callebaut, the world's biggest chocolate maker, on Thursday said it agreed to buy Moscow-based Inforum to expand in the Russian market. Chocolate consumption in the country rose 9.2 percent in the nine months through April, compared with a global increase of 2.5 percent, Barry Callebaut said, citing data from researcher Nielsen.