Russia Shrugs Off Sanctions With 1.5 Billion Euro Bond Offering
(Bloomberg) -- Russia is selling 1.5 billion euros ($1.8 billion) of bonds, including its longest-maturity security in the common currency as the U.S. seeks to improve relations with the Kremlin.
The U.S. expressed hope for a "more stable" relationship with Russia this week as the countries negotiate a potential summit between presidents Joe Biden and Vladimir Putin. Earlier, Biden's administration waived some sanctions on a major Russian gas pipeline project, a month after announcing restrictions on purchases of ruble debt that proved less severe than feared.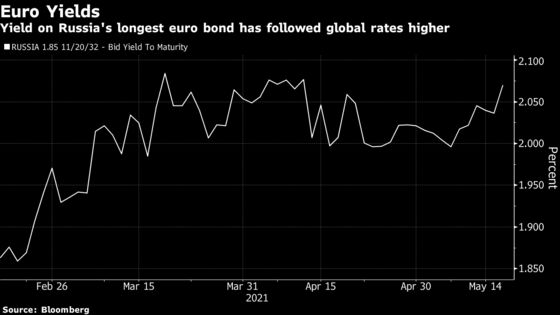 "Risk appetite is generally still strong," said Maria Radchenko, an analyst at Renaissance Capital in Moscow. "The correction in U.S. stocks hasn't affected the debt market. And the planned meeting between the two presidents is encouraging hopes of a de-escalation, which also gives support."
Russia last sold euro-denominated bonds in November in the wake of Biden's election win. U.S. investors are barred from taking part in non-ruble sovereign debt sales under sanctions passed in 2019, and as of next month won't be allowed to buy local-currency Russian government debt in the primary market when the new sanctions kick in.
The Finance Ministry expects to sell 1 billion euros of 15-year bonds priced to yield 2.65%, according to a person familiar with the matter who asked not to be identified because the details aren't public. It's also tapping its 2027 bonds to the tune of 500 million euros at an expected face value of 98.50 cents, the person said.
The premium on the longer debt is likely to shrink from 60 basis points to about 40 basis points in the coming months, according to Yuri Golban, an analyst at BCS Global Markets.
VTB Capital, Gazprombank and Sberbank CIB were hired for the sale.