Russia Lands a Bond Bonanza as Investors Look Beyond Sanctions
(Bloomberg) -- Russia scored its biggest local-debt auction on record and foreigners boosted their holdings of the debt for the first time in almost a year, even as the threat of U.S. sanctions lingered.
The nation's Finance Ministry sold a total of 57.6 billion rubles ($875 million) in two offerings on Wednesday. Both the 2024 and the 2029 notes were oversubscribed with the ministry offering a premium of four basis points in both tenders. Also on Wednesday, the central bank published data on bond holdings for January, which showed foreigners increased their share to 25 percent, the first gain since March.
The sale got a big boost because investors have money on their hands after the redemption of 150 billion rubles of notes, but the favorable backdrop in emerging markets and Russia's solid finances are also playing a role, according to analysts from Danske Bank A/S and Credit Suisse Group AG. Even with the prospect of sanctions on new sovereign bonds sales hanging over the market for alleged elections meddling, Russia's local debt has handed investors an 8.2 percent return so far this year, the most among developing nations after Egypt.
"The strong demand was expected and to an extent it confirms our theory that the American sanctions are already priced in," said Alexey Pogorelov, an analyst at Credit Suisse in London.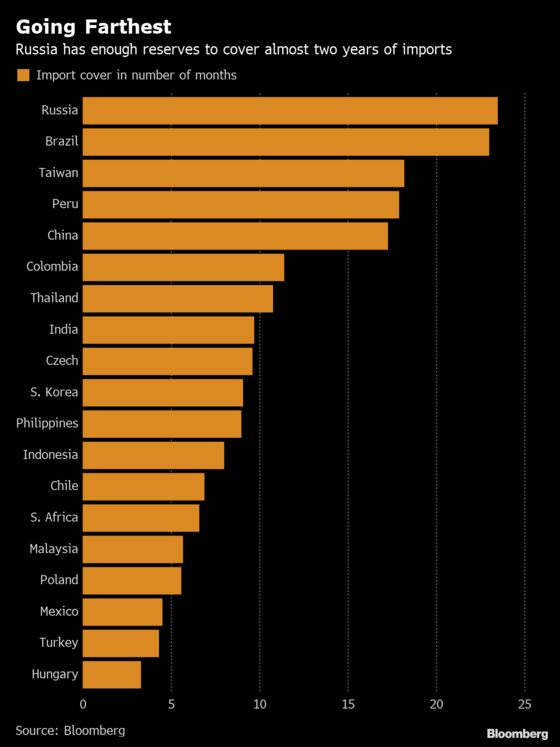 "The market is chasing stable macro indicators and attractive returns," said Vladimir Miklashevsky, a Helsinki-based strategist at Danske Bank A/S.