Russia Leaves Market in the Dark After Two Rate Surprises
(Bloomberg) -- After surprising economists with two rate hikes at the end of last year, Bank of Russia Governor Elvira Nabiullina has a new tactic for the beginning of 2019: don't give any guidance at all.
Speaking on the eve of a self-imposed blackout week before the next rates decision on Feb. 8, Nabiullina declined to give any indication about where interest rates are headed.
"We will weigh all factors: inflation, inflation expectations, the state of the economy, the labor market and if there is a need to amend the forecast and will act accordingly," Nabiullina told reporters at a banking conference near Moscow.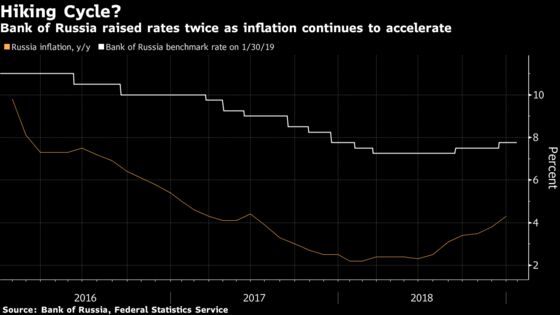 Unsure what to make of the break from procedure, some analysts questioned whether the lack of comment itself was a signal. Since Nabiullina mentioned the possibility of hikes before the two unexpected increases last year, perhaps that option is off the table this time round? Others suggested that because the market is expecting rates to remain unchanged at 7.75 percent next week, the central bank saw no reason to give guidance.
Dimitry Dolgin, chief economist at ING Groep NV in Moscow.
"Usually the head of the central bank comments on the eve of the quiet period, if she sees a need to correct market expectations. Probably this time around she doesn't see the need."
Vladimir Miklashevsky, an economist at Danske Bank A/S in Helsinki:
"Most likely this means the central bank isn't even considering a rate hike next week or even this quarter. A softening in tone in the statement following the rate decision is quite possible."
Valery Vaisberg, the head of research at Region Group in Moscow
"The central bank is taking on the role of attentive observer so as not to influence the market. The balance of risks still isn't ideal and the situation could worsen. Any comment could have created erroneous expectations about the current conditions."