Russia Awaits $34 Billion Windfall as Putin Starts Spending Push
Russian President Vladimir Putin's new government is in a hurry to open up the floodgates to increased spending after years of tight fiscal policy.
Extra spending in 2020 could total 2.1 trillion rubles ($34 billion), or 1.3% of gross domestic product, according to calculations by ING Groep NV in Moscow. The government will likely tap the National Wellbeing Fund and also release about 500 billion rubles left over from last year's budget, according to ING economist Dmitry Dolgin.
Putin announced last week proposals to spend about $65 billion until 2024, as much as 1% of GDP, in new benefits for the poor and families. Investment also is set to accelerate on a $400 billion four-year infrastructure plan, dubbed the National Projects, that got caught up in bureaucracy last year.
"We need to implement the National Projects more actively, so that people feel the changes in their lives and surroundings in the near future," newly appointed Prime Minister Mikhail Mishustin said at the first meeting of the new cabinet on Tuesday. "Without a doubt, we have to achieve faster economic growth."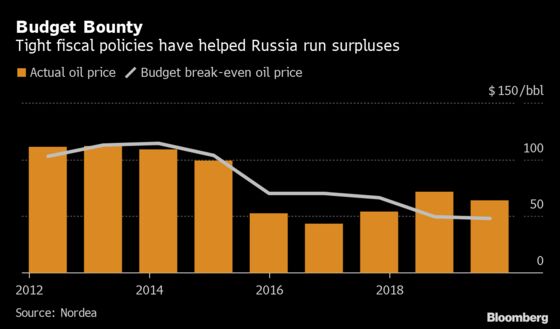 Mishustin is eager to show that he can deliver on Putin's goal of revving up the sputtering economy and improving living standards. His new cabinet, announced late on Tuesday, is packed with officials known to be prominent advocates of increased state spending.
Russian stocks have surged nearly 2% in the past week on bets that the increased spending will boost consumers' purchasing power. Shares of children's retailer Detskiy Mir PJSC and Magnitogorsk Iron & Steel Works PJSC were among the biggest winners, as several stocks climbed to record highs.
Former Kremlin adviser Andrey Belousov, one of the architects of the National Projects, was appointed first deputy prime minister, and Marat Khusnullin was moved to the federal government from Moscow City Hall. Khusnullin, who became a deputy prime minister, has been a key driving force behind an investment binge that has transformed the Russian capital in recent years.
Belousov was one of a group of senior officials who lobbied Putin in 2018 to significantly increase borrowing to fund the National Projects. Instead, Russia's debt levels have remained among the lowest in emerging markets. Finance Minister Anton Siluanov, who is seen as the architect of the tight-budget policies Russia has followed in recent years, saw his position weakened in the new cabinet.
What Our Economists Say...

"The big question is how Mishustin's new government would pay for extra spending. Keeping Siluanov atop the Finance Ministry, though with less authority, suggests any change of course will be incremental."

-- Scott Johnson, Bloomberg Economics
Russia has ample room to increase spending given that it ran a budget surplus of 1.8% of GDP last year and has grown international reserves to more than $500 billion. But the double shock of sanctions and collapsing oil prices in 2014-15 has made Putin wary of borrowing or spending too much money.
Five years of tight fiscal and monetary policy have significantly reduced Russia's vulnerability to external shocks at the expense of economic growth, which has struggled to climb above 2%. The extra spending will probably only add about 20-30 basis points to growth in the short term, because spending is concentrated in social projects, according to Bloomberg Economics.
"We generally welcome some level of fiscal stimulus, since over-reliance on monetary policy can at some point affect your overall policy credibility," said Damien Buchet, CIO of the Finisterre EM Total Return Strategy in London, who owns ruble bonds. "Russia has policy headroom on both fiscal and monetary sides."