Russell Baker, Columnist Who Satirized American Life, Dies at 93
(Bloomberg) -- Russell Baker, the Pulitzer Prize-winning columnist and author who made generations of New York Times readers see the humorous side of serious issues, has died. He was 93.
Baker died on Monday at his home in Leesburg, Virginia, after complications from a fall, according to the New York Times, which cited his son Allen.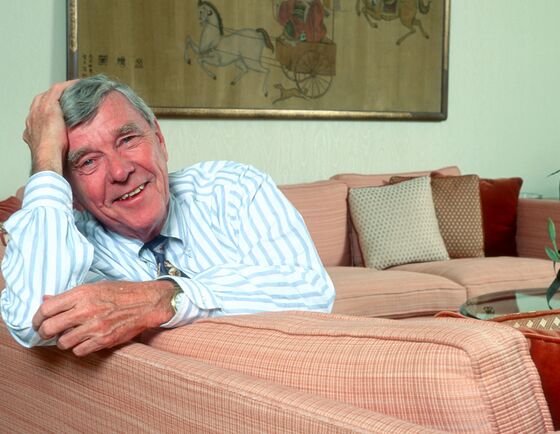 Writing the nationally syndicated "Observer" column for 36 years, Baker made political satire out of U.S. presidential campaigns during the 1960s and turned controversial topics into amusing revelations that stirred a cult readership. He won the Pulitzer Prize for distinguished commentary in 1979 and another one for biography in 1983. One of the longest-serving columnists at the New York Times, Baker was also among America's most respected newspaper writers.
"Other journalists may envy what he did, but in a business where imitation is the sincerest form of self-promotion, Baker broke his own mold," Jonathan Yardley wrote in the Washington Post in 1999.
Baker's final column in 1998 left many readers mourning the loss of his witty insights. Senator Daniel Patrick Moynihan, who died in 2003, described him as "the sanest observer of American life that we've had" and asked Congress to reprint Baker's farewell commentary in the Congressional Record. Tributes also flowed in from veteran journalists who had used Baker as a yardstick for their own writing talents.
"A group of politicians deciding to dump a president because his morals are bad is like the Mafia getting together to bump off the Godfather for not going to church on Sunday," he once wrote.
His Pulitzer-winning autobiography "Growing Up" (1982), recounting a childhood in rural Virginia and the struggle with his mother to survive the Great Depression, was followed by a sequel titled "The Good Times" (1989) about his days as a journalist, and "Looking Back" in 2002. He wrote the first book as a letter to his children, saying that "their privileged American existence might be only a brief accident of history."
Baker was also a familiar face on television as the host of "Masterpiece Theater" on PBS for more than a decade, replacing English-born Alistair Cooke. Known for cutting his own hair to avoid the cost of a barber, Baker had few reservations about following his dapper predecessor on a program that showcased English period dramas such as "Upstairs, Downstairs" and "The Duchess of Duke Street."
"Maybe this will give me some character," he was quoted as saying by the Washington Post in 1993. "How often do you see someone with a bad haircut on television? Unless he's under arrest."
Russell Wayne Baker was born Aug. 14, 1925, in Morrisonville, Virginia. His father, Benjamin Baker, was a stonemason who died of diabetes when Baker was 5. As the Great Depression took its toll, Baker's mother, Lucy, allowed her youngest child, Audrey, to be adopted by her brother-in-law and his wife.
With his younger sister, Doris, Baker and his mother then moved to Newark, New Jersey, where her brother lived and she took a job in a laundry. Lucy Baker had been a schoolteacher before her career ended when she had Russell out of wedlock.
After settling in Baltimore in 1937, Baker helped put food on the table with a job delivering newspapers, but the family still relied on food handouts. Their situation became more stable when his mother married a railroad employee.
Baker attended City College High School in Baltimore and then won a scholarship to Johns Hopkins University. His education was interrupted by World War II when he served in the U.S. Navy without seeing combat. In 1947, he graduated with a degree in English literature.
Pursuing a childhood dream of becoming a novelist, which he said seemed like an easy way to make a living, Baker joined the Baltimore Sun newspaper to hone his writing skills. There he spent two years as a crime reporter, working night shifts, and later became the Sun's bureau chief in London.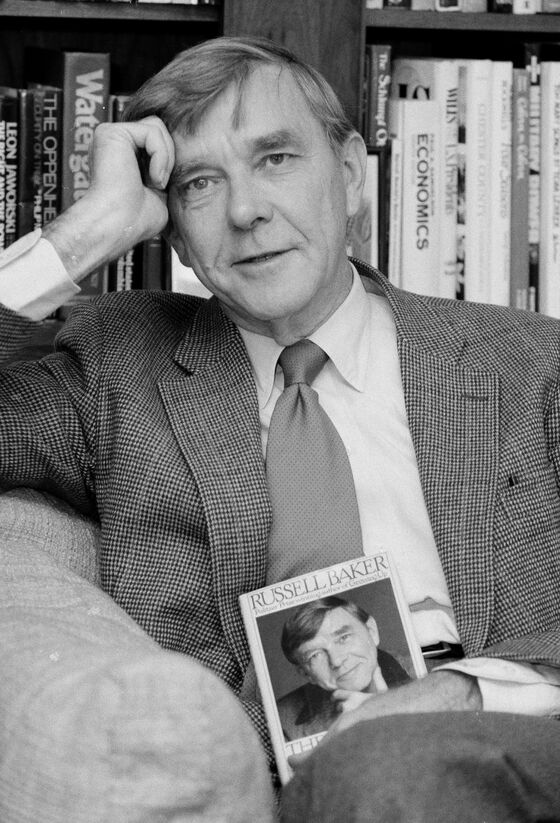 In 1954, he joined the New York Times in its Washington bureau, covering national politics. He moved to New York and became a columnist in 1962 after he grew tired of waiting around for U.S. Senate officials "to come out and lie to him," according to a 1993 article in the Washington Post.
In addition to his New York Times columns, Baker wrote or edited at least 17 books, including "Our Next President" (1968), about the 1968 presidential elections, and "Russell Baker's Book of American Humor" (1993).
Ten years after winning his second Pulitzer, Baker became chairman of the Pulitzer Prize board at Columbia University. He was elected a fellow of the American Academy of Arts and Sciences in 1993.
"Thanks to newspapers, I have made a four-hour visit to Afghanistan, have seen the Taj Mahal by moonlight, breakfasted at dawn on lamb and couscous while sitting by the marble pool of a Moorish palace in Morocco and once picked up a persistent family of fleas in the Balkans," he wrote.
Baker was married to the former Miriam Nash, for more than 60 years and lived in Leesburg, Virginia, about 12 miles (19 kilometers) from his birthplace. They had three children: Kathleen, Allen and Michael.