Royal Mail Nears IPO Price as Analysts Lament 'Shocking' Warning
(Bloomberg) -- Royal Mail Plc slumped as much as 8.6 percent on Tuesday, losing about a quarter of its value since issuing a surprise profit warning late Monday, prompting analysts to slash price targets for the stock.
The stock is just 13 percent above its 2013 initial public offering price of 330 pence a share, having reached a record high of almost double that as recently as May.
Analysts bemoaned a further slowdown in letter volume and a failure to meet cost-cutting targets at the 500-year-old company, while questioning whether the firm's dividend policy remains affordable.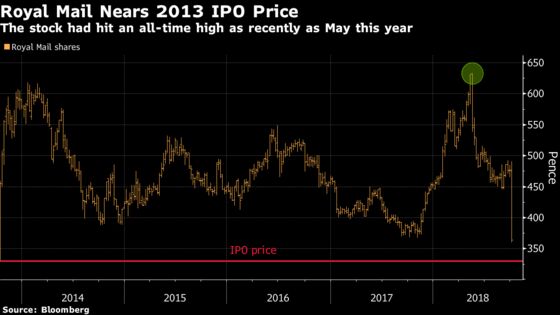 Here's a summary of what analysts had to say:
(Sell, price target cut to 250p from 415p)
The profit warning was "shocking in its scale and timing"-- first-half productivity improved by just 0.1 percent, leaving the previous full-year target of nearly 3 percent "well out of reach, despite a weak comparative"
Further downside risk to estimates, in part due to labor costs, with a one-hour working week reduction that began on Monday
Jefferies, David Kerstens and Hamish Dalgarno
(Underperform, price target 400 pence)
Even though management is adhering to dividend policy, it "does not look sustainable in the longer term"
Letter volume pressure is worsening and staff costs are rising, weak productivity a concern because wage inflation may become unaffordable without improvement
Notes employees controlling about 8 percent of capital can sell shares on a tax-free basis from October, at a reduced 18 percent premium to the IPO price
Morgan Stanley, Penelope Butcher
(Underweight, price target cut to 405 pence from 480 pence)
Royal Mail needs meaningful pricing increases or accelerated new productivity measures to comfort the market, and may need to consider faster sales of assets within its "attractive" London property portfolio
(Sector perform, price target 500 pence)
Key question is whether RMG can catch up and regain productivity momentum. "So far that's not clear to us"
Historically, mail profit misses prove hard to recover from, without offsetting price/revenue actions
Warning was driven by costs as the company's General Logistics Systems unit sees more margin pressure despite stronger growth; letter revenue looks lighter, but offset by better parcel revenue
Bloomberg Intelligence, Talon Custer
While e-substitution is one impetus for the decline in secular mail, the General Data Protection Regulation (GDPR) act and business uncertainty stemming partly from Brexit are also drivers. U.K. GDP growth, which is decelerating, is correlated to mail volume
(Sell, price target cut to 300 pence from 428 pence)
Warning reflects the high level of operating leverage in the company and the difficulty of shifting the business model away from mail to growth areas, such as parcels; therefore sees material cuts to earnings forecasts