RBC Beats Estimates as Traders Drive Capital-Markets Record
(Bloomberg) -- Royal Bank of Canada's capital-markets operation powered earnings in the fiscal first quarter, with volatile stock markets driving record profit from the division.
Earnings from the capital-markets business surged 21% to C$1.07 billion ($848 million) in the three months through January, the Toronto-based company said Tuesday. Overall profit topped analysts' estimates.
The volatility spurred by the Covid-19 pandemic has fueled a trading boom, especially in the U.S., where Royal Bank has a sizable presence. The strength continued through the end of last year, propelling higher-than-expected equities-trading revenue at the five biggest U.S. investment banks. Of Canada's six largest lenders, Royal Bank generates the second-highest proportion of revenue from capital markets, giving it an outsize boost from the trend.
"They've got above-average capital-markets exposure, so that's working for them," Scott Chan, an analyst at Canaccord Genuity Group Inc., said in an interview before Royal Bank reported results. "It seems like the capital-markets traction in fiscal 2021 is going to be pretty strong."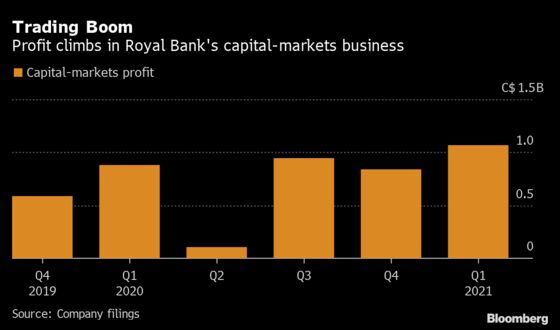 Global-markets revenue rose 12% to C$1.63 billion, helped by increases in equities, interest-rate and credit trading. That more than made up for a 2.5% decline in corporate and investment banking revenue.
National Bank of Canada, which gets the highest proportion of revenue from capital markets among the country's biggest banks, also posted first-quarter profit on Wednesday that topped analysts' estimates. Earnings excluding items were C$2.15 a share, beating the C$1.71 average projection. Net income in the bank's financial-markets business rose 37% to C$250 million.
At Royal Bank, earnings also were helped by the lender's caution earlier in the pandemic, when it reserved record amounts of money to protect against potential credit losses. The company set aside C$110 million in provisions in the first quarter, down from C$427 million in the previous three months and less than a fifth of the C$562.5 million analysts estimated. The bank even had a recovery on performing loans and other financial assets of C$108 million.
Also in the results:
Net income rose 9.6% to C$3.85 billion, or C$2.66 a share. Excluding some items, profit was C$2.69 a share, beating the C$2.28 average estimate of analysts in a Bloomberg survey.
Royal Bank's Canadian banking division reported profit gains as well, with the unit's net income rising 8% to C$1.75 billion as the country's strong housing market spurred growth in residential mortgages.
Royal Bank's operating leverage was negative 1.8% in the first quarter, showing that non-interest expenses grew faster than revenue. That measure was positive 1.7% in the fourth quarter.
Royal Bank shares were little changed at C$111.68 at 9:40 a.m. in Toronto. They've gained 6.7% this year, compared with an 8.2% increase for the S&P/TSX Commercial Banks Index.
With revenue gains restrained by the pandemic, investors are increasingly focusing on banks' efforts to control costs. Royal Bank showed some challenges on that front, posting a 2.6% increase in non-interest expenses, compared with a 4.1% decrease in the previous three months.
The gain was largely due to stock-based and variable compensation, which are "expenses we prefer to pay because that means our business is robust," Chief Financial Officer Rod Bolger said in an interview Wednesday. Excluding those items, expenses were down almost 1% in the quarter and will rise at a percentage in the low single digits for the year, he said.
"We have held expenses very much in check despite the fact that we added headcount year over year," Bolger said.