Rouhani Says Controversial Tape Leaked to Derail Nuclear Talks
(Bloomberg) -- Iranian President Hassan Rouhani said the leaking of an audio recording that has triggered calls for the impeachment of his top diplomat was intended to derail nuclear talks with world powers as they near a breakthrough.
A dissident Iranian news channel on Sunday aired parts of an interview in which Foreign Minister Mohammad Javad Zarif complains that some unilateral decisions by a widely revered general, Qassem Soleimani, had undermined his diplomatic efforts, including forging a critical 2015 international agreement.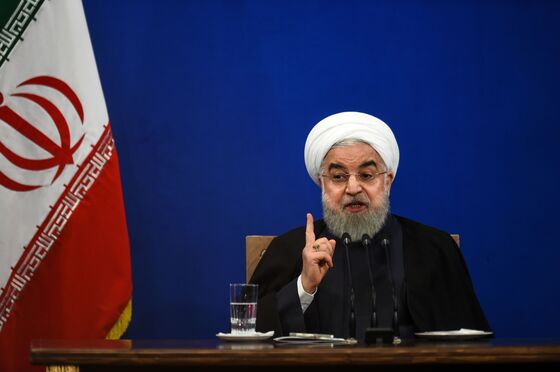 The deal removed sanctions on Iran in return for capping its atomic program, and Zarif said the Islamic Revolutionary Guard Corps had opposed it.
Soleimani, whom Zarif refers to as a friend, was assassinated by the U.S. in January 2020, part of then-President Donald Trump's policy to weaken Tehran. Trump also exited the nuclear deal struck by his predecessor and reimposed economic penalties, steps the current negotiations in Vienna are attempting to reverse.
"Why at this time?" Rouhani said in a televised cabinet meeting Wednesday, addressing the report. "Right at the juncture when Vienna is on the precipice of succeeding." He urged the Intelligence Ministry to investigate what he called the "theft" of a document.
In the interview with economist and former government adviser Saeed Laylaz, Zarif said his work in the "diplomatic field" was often sacrificed for the sake of "the battlefield." Military policy would get priority, Zarif said, adding he was kept in the dark on key operations, including Iran's retaliatory strike on a U.S. base in Iraq after Soleimani's killing.
The recording -- which offers an extremely rare window into the relationship between Iran's civilian government and the increasingly powerful Guard Corps -- sparked an immediate backlash at home.
Hardline conservative lawmakers who control parliament called for Zarif's impeachment immediately after he returns from a trip of Arab countries, the semi-official Tasnim news reported.
Rouhani sought to downplay the significance of Zarif's comments. It was "natural" that ministers give their opinions in official meetings but they stand in unity with all branches of the state and military, he said. The interview, recorded in March, was part of a government initiative to document his two terms in office, the president said.
Zarif hasn't commented directly on the tape. On Wednesday, he posted a caption on Instagram emphasizing his love and respect for Soleimani, accompanied by a video of him praying at the site where the general was killed in Baghdad.
The assassination was the most dramatic single event of the Trump administration's standoff with Iran, which plunged the Persian Gulf into a spiraling crisis. Proxy conflicts intensified, while shipping and Iranian nuclear facilities were attacked. Tehran responded by vastly increasing its uranium enrichment, this month purifying the metal close to weapons grade. The talks in Vienna are expected to last some time given the complexity of the discussions.
Laylaz declined to answer questions on how he thinks the recording was leaked or comment on its contents.