Romania's Economy Outshines Rest of EU After Shunning Lockdown
(Bloomberg) -- Romania's economy outperformed the rest of the European Union last quarter as the government opted not to impose the kind of harsh lockdown that shuttered most of the continent.
Output not only grew from the previous three months, but surged more than 10 times what analysts had expected. The expansion of 5.3% puts it ahead of all other EU members to have reported data so far.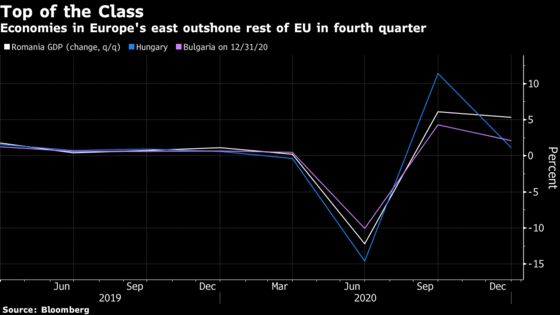 The fourth quarter was good for other parts of eastern Europe too: Hungary and Bulgaria both unexpectedly recorded growth from the previous three months, according to numbers published Tuesday. Lithuania looks set to be the EU's best performer last year.
Romania has officially dodged a recession during the pandemic by only notching one quarter of economic contraction, between April and June. Despite struggling with one of the bloc's widest budget shortfalls, it's managed to boost public investments to the highest in a decade, buoying construction while IT remained strong.
Prime Minister Florin Citu hailed the fastest rebound in his country's history.
"Everyone will need to revise 2021 GDP forecasts to the upside," said Ciprian Dascalu, an economist at Erste Group Bank in Bucharest.