Romania Gives Currency Go-Ahead to Leave Year-Long Trading Band
(Bloomberg) -- The Romanian leu headed for its biggest daily decline in more than a year, an unusual move for a currency that's tightly controlled by the central bank.
The leu slipped as much as 0.4% to a record low of 4.9085 per euro on Monday, weakening from a 4.80-4.90 trading range it had mostly held on to over the last 12 months. That said, the currency has been outperforming eastern European peers since the start of the pandemic due to the central bank's policy on tempering moves in the exchange rate.
The "Romanian central bank is not concerned about the recent leu decline," central bank spokesman Dan Suciu said by phone. Its weakness this year has a minor impact on inflation, he said.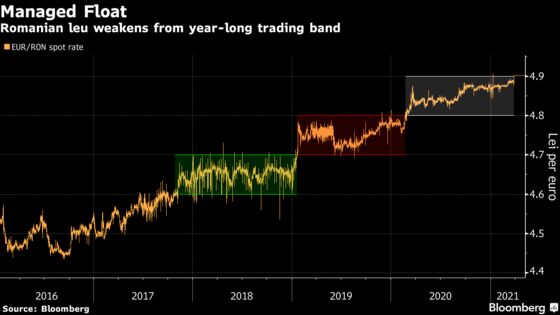 The central bank's remarks suggest policy makers may be allowing the currency move toward a new trading band against the euro. Similar small devaluations have typically come in the first three months of the year as the authority allows the leu to follow depreciation among peers with a lag, while smoothing daily volatility.
Some analysts were calling for a new trading band even before the year began. At the end of 2020, UniCredit SpA's Dan Bucsa predicted a shift to 4.9-5 per euro at the beginning of this year.
"The market, ourselves included, was widely expecting a correction higher for the pair," said Valentin Tataru, an analyst at ING Bank in Romania who sees the leu weakening to 4.92 per euro by year-end. "We do not foresee a prolonged depreciation period."