Roku Spikes, Pushing Its Rally Since December to 180%
(Bloomberg) -- Roku Inc. shares jumped to all-time highs on Thursday after the video-streaming platform posted first-quarter revenue that beat expectations and gave a strong outlook.
Analysts were broadly positive on the print and the guidance, both of which reflected continued growth in both sales and users, though both Citi and Loop Capital Markets expressed concern about competition in the streaming landscape, as well as the stock's valuation.
Shares rose as much as 28%, with the stock hitting record levels. Shares have surged more than 190% off a December low.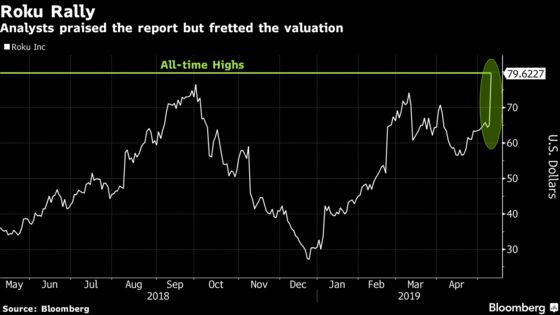 Here's what analysts are saying about the results:
The outlook, "like recent results, could prove too conservative." Price target raised to $60 from $50.
Affirmed sell rating, writing that "we remain cautious given the increased competition level and the current valuation may over-estimate the long-term potential size of the company's ad business."
KeyBanc Capital Markets, Evan Wingren
"Roku is gaining market share in a competitive space and benefiting from a structural shift to streaming." Overweight rating, price target raised to $84 from $76.
The company has 29 million active over-the-top (OTT) users, and given that scale, ``it is now impossible to launch a new U.S. OTT service without Roku.''
New streaming video services from Walt Disney Co. and Apple Inc. will ``drive Roku value in three ways,'' including through subscriber additions and advertising revenue.
Buy rating, $85 price target.
RBC Capital Markets, Mark Mahaney
``We still see more upside'' despite the year-to-date rally. Roku is ``one of the best plays on ad-supported OTT,'' and it can sustain its ``robust growth'' in active accounts while improving average revenue per user.
Overweight rating, target raised to $90 from $70.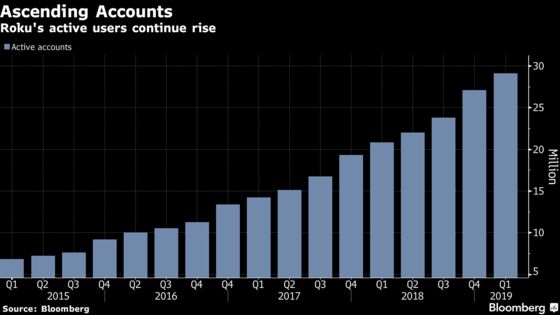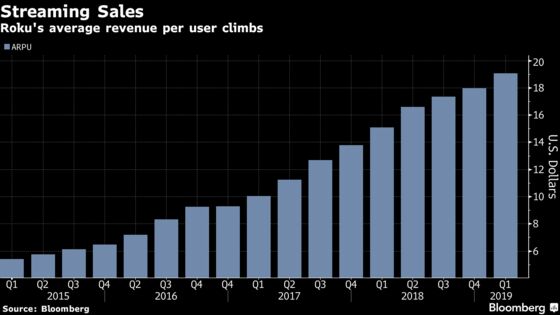 Loop Capital Markets, Alan Gould
Roku is "positioned well as the TV ecosystem evolves to streaming." But it "faces substantial potential competition and there continues to be a large amount of insider selling."
Affirmed sell rating and $45 price target. While Roku should continue to beat expectations, "it is difficult to justify the valuation on traditional metrics."
What Bloomberg Intelligence Says

"Favorable video-streaming trends and Roku's video-hardware leadership are clearing a path to strong platform sales growth, which could be the foundation for exceeding $1 billion in revenue in 2019."

--Woo Jin Ho. technology analyst
Click here for the repor