Roku Rallies After Receiving First Analyst Upgrade Since Crash
(Bloomberg) -- Roku Inc. had its best day in about two months on Wednesday after Macquarie Research upgraded the stock, the first such move by an analyst since a sharp recent decline in the shares of the video-streaming platform.
Shares gained as much as 9%, Roku's biggest spike since August. Trading was heavy, with the stock moving on volume that was above its daily average over the past three months.
"Roku has built a leading position in the U.S., and we believe its devices will find a ready market abroad," wrote Macquarie analyst Tim Nollen, who added that Roku "occupies a great spot" within the sector of connected television devices.
The rally comes in the wake of a recent collapse in the stock, which erased more than 40% of the company's valuation between a record-high close in early September and a bottom later in the month. Shares have risen about 17% off that bottom, including Wednesday's gain.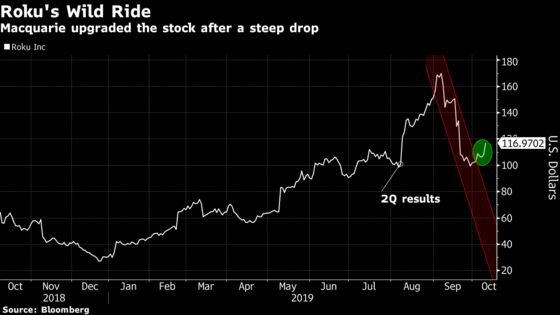 The September slump came on growing concerns over competition, fueled as major companies like Facebook Inc. and Comcast Corp. debuted rival streaming-video devices. Macquarie didn't dismiss the threat of new entrants into the space, but it did downplay the risk they represented. While "competition is real," the firm wrote, "the playing field is big."
The decline also came after a massive year-to-date advance that at its peak saw Roku trading more than 500% above a December low. The surge came on growing optimism over Roku's place within the widely followed video-streaming sector, a narrative underlined by strong quarterly results. The past three reports have proved to be blowouts, with the stock spiking more than 20% in each of the three days that followed the release.
At current levels, Roku remains up more than 300% from its low in December.
Macquarie's upgrade appears to be the first for Roku since Rosenblatt Securities lifted its view in the wake of the company's second-quarter results in August. It brings the number of buy ratings up to 10, compared with the four analysts who rate it the equivalent of a hold, and the two firms that recommend selling the stock, according to data compiled by Bloomberg. The average price target stands at about $131. That implies upside of 13% from current levels, but would leave Roku about $40 below its record close of nearly $170.
Roku's next report is expected to be released on Nov. 6, according to Bloomberg data. Analysts are looking for an adjusted loss of 26 cents a share on revenue of $256.4 million, which would represent revenue growth of nearly 50% from the prior year. According to a Bloomberg MODL estimate, Wall Street is also looking for about 2 million new active accounts added in the quarter, which would represent a gain of 36% from the prior year.