Roku Gains on Report Walmart Is Abandoning Streaming Plan
(Bloomberg) -- Roku Inc. rallied on Thursday after a report that Walmart is abandoning development of a competing streaming service.
Roku, which generates more than half of its revenue from television-streaming subscriptions and advertising, gained as much as 5.5 percent after the CNBC report, which cited people familiar with the matter.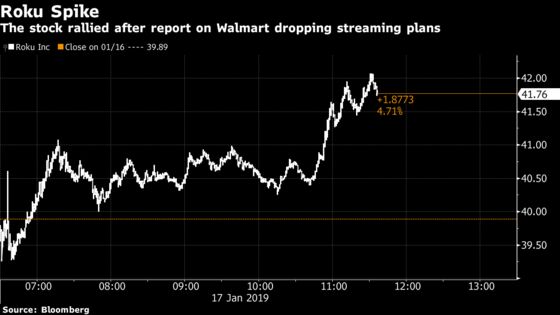 Roku has so far been successful at adding users to its streaming platform. Earlier this month, the Los Gatos, California-based company said active accounts increased 40 percent to more than 27 million in the fourth quarter. Platform revenue rose 74 percent in the third quarter to $100.1 million, compared with the same period the year before. The company plans to release financial results in February.
Walmart now plans to focus its streaming efforts on Vudu, a video service it acquired in 2010, according to the report.