Roku, Fox Gain After New Deal Kept Super Bowl on Screens
(Bloomberg) -- Roku Inc. and Fox Corp. climbed Monday after inking a new distribution agreement over the weekend, preventing a potential blow to viewers' ability to stream Sunday's Super Bowl broadcast.
The settlement, clearing the way to air FOX channels on the Roku platform, brings an end to a fleeting dispute between two entities approaching the media business differently. Roku is focused on maintaining leadership among streaming platforms, while Fox is banking on exclusive broadcast rights to marquee sporting events similar to last night's matchup, which saw the Kansas City Chiefs defeat the San Francisco 49ers, 31-20.
Shares in Roku rose as much as 6.6%, the most in two months, as of 12:27 p.m. in New York. Fox Class A shares gained 2.5% intraday.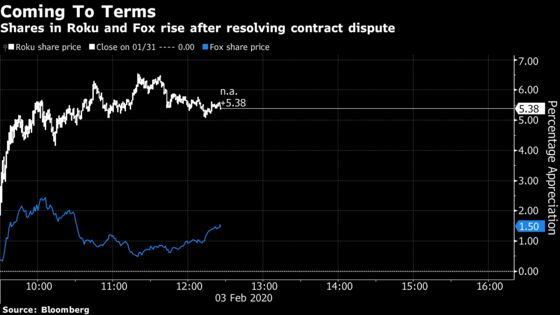 "Roku customers can stream the Super Bowl through FOX Now, Fox Sports and NFL in addition to other ways," Roku said in a statement Feb. 1.
The move is an about-face for Roku, which fell to its lowest in more than two months on Friday after notifying customers that FOX channels wouldn't be accessible on its platform ahead of the network's Super Bowl coverage.