Rogers Makes Staffieri CEO With Family Feud Still Boiling
(Bloomberg) -- Rogers Communications Inc. said it's appointing Tony Staffieri to lead the company through its takeover of Shaw Communications Inc., a move that may widen the rift between members of the Rogers family. 
Canada's largest wireless and cable company named Staffieri as its president and chief executive officer in a statement Monday. He had been given the role on a temporary basis in November following a courtroom fight that left Edward Rogers, son of late founder Ted Rogers, in control of the board.  
It was Edward Rogers's push to install Staffieri as a replacement for former CEO Joe Natale that kicked off a huge struggle for control within the company in September. The move came as the company tries to buy Calgary-based Shaw for $16 billion in a deal that is certain to receive heavy scrutiny from Canadian antitrust regulators because it reduces the number of competitors in the wireless industry.
"This is a pivotal point in the company's history and the board has full confidence in Tony's ability to lead Rogers as we move forward," Edward Rogers said in a statement.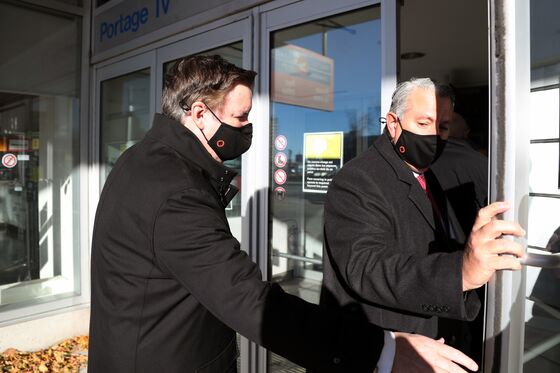 When Edward Rogers first tried to install Staffieri as CEO last year, eight directors -- including Edward's mother, Loretta Rogers, and his sisters, Melinda Rogers-Hixon and Martha Rogers -- joined forced to block the move and voted instead to fire Staffieri, the longtime chief financial officer. 
Edward then sued the company, seeking a Canadian court's permission to fire five directors. He won in early November and replaced five members of the board, which then sacked Natale and brought back Staffieri on Nov. 16. 
In an interview last month with Bloomberg, Rogers-Hixon made it clear that she wanted peace with her brother -- but that she didn't necessarily see Staffieri as the top choice for CEO. 
"If you are doing a job search for somebody to run a C$50 billion corporation, I fully and firmly believe operating experience is a must. And not even six months of operating experience," she said in December. "Former CEO experience would be, frankly, very nice as well." 
Staffieri is a career finance executive who hasn't been a CEO before. 
Rogers-Hixon declined to comment through a spokesperson on Monday.