Roger Stone Rebuffed by Appeals Court in Prison Delay Bid
(Bloomberg) -- A U.S. appeals court denied an emergency request from Republican operative Roger Stone for a delay to the start of his 40-month prison term for lying to Congress during the Russia probe, saying he hadn't proved that he was in particular danger of catching the coronavirus behind bars.
The decision late Friday by the U.S. Court of Appeals in Washington all but assures that Stone, who has an underlying health condition, will have to surrender to a federal correctional facility in rural Georgia next week unless President Donald Trump steps in to commute the sentence, as Stone has requested.
Trump said earlier on Friday that he was considering it.
"Well, I'll be looking at it," Trump told reporters before leaving for Florida. "I think Roger Stone was very unfairly treated, as were many people."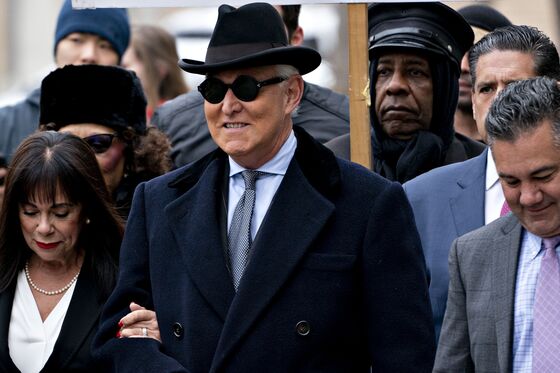 In a court filing earlier on Friday, Stone, 67, said his life would be put at risk in the Georgia facility because at least 20 inmates and four staff members there had contracted the deadly virus. When U.S. District Judge Amy Berman Jackson denied his request for the delay, the facility with almost 1,400 inmates had no cases, he said.
"Stone proffers for the first time new facts regarding what he describes as positive tests for Covid-19 at the prison facility to which he has been assigned," the appeals court panel said. "But Stone never afforded the district court the opportunity to consider that new evidence and make any relevant fact findings in a motion for reconsideration."
Stone this week issued a statement urging Trump to commute his sentence so he won't have to report to prison on July 14. Trump has repeatedly defended Stone, one of his earliest boosters, and slammed the Russia investigation that led to charges against Stone as a Democratic "hoax."
Senate Judiciary Committee Chairman Lindsey Graham said on Twitter a commutation of the sentence would be justified.
Jackson, who oversaw Stone's trial, denied his request for a delay to his surrender date, even though it was unopposed by the government. On Thursday, the Justice Department told the appeals court it was withdrawing its earlier support for Stone's motion in deference to Jackson's authority, saying she had properly taken into account that Stone was convicted of threatening a witness and that he stoked violent sentiment against jurors and the judge.