Roche's Small Deal Has Big Cancer Promise
(Bloomberg Opinion) -- When it comes to this month's dealmaking in biotech, the record $74 billion takeover of Celgene Inc. by Bristol-Myers Squibb & Co. has been the focus of attention. A smaller transaction that came around the same time deserves more notice than it got.
The deal, announced on Jan. 4, is a licensing agreement reached between Roche Holding AG's Genentech unit and closely held Adaptive Biotechnologies, and it's potentially worth more than $2.3 billion before royalties. Compared with other such arrangements — Bloomberg Intelligence counted 456 licensing deals last year — this one is on the bigger side, and more ambitious. 
The two companies want to figure out the unique qualities of an individual patient's cancer and immune system, and build them a custom-designed medicine from their own immune cells. It's something of a moonshot, and Roche's involvement gives it the backing of one of biopharma's best-regarded and funded companies. If it succeeds, and that's a big if, it could shift Roche's fortunes and the direction of cancer research.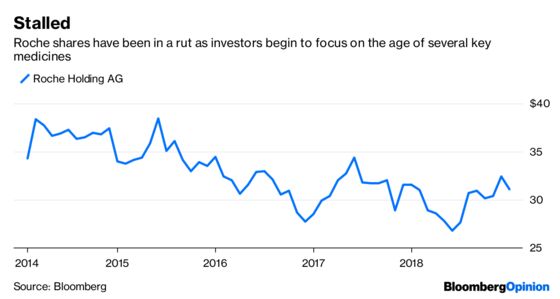 Seattle-based Adaptive isn't a traditional biotech operation. The firm, run by brothers Chad and Harlan Robins, is a drug mapper rather than a drug maker that uses next-generation sequencing to profile immune systems. In September, it won approval from the Food and Drug Administration for a blood-cancer test, and is working on other diagnostics in partnership with Microsoft Corp.  
Cancer cells differ from regular cells in small but important ways. Adaptive's technology helps it find T-cell receptors (TCRs) that can track down those patient-specific differences and signal immune cells to attack. 
As part of this deal, Genentech will work on cell therapies — medicines that tweak immune cells to hunt tumors — aimed at cancer markers that Adaptive has found in multiple patients. But the two firms will simultaneously be working toward the bigger goal of tailoring treatment to individuals by having Adaptive employ real-time sequencing to find the exact right approach for each person. Genentech can then use this information to harvest patient immune cells, engineer a truly bespoke cell therapy, and deliver it. 
This sort of approach to treatment is seen as a holy grail. There are already effective drugs targeted to specific cancer quirks. But many are still fairly blunt instruments, and plenty of patients still have few options. Individually designed cell therapies have the potential to be better, safer, and more broadly applicable than many standard treatments.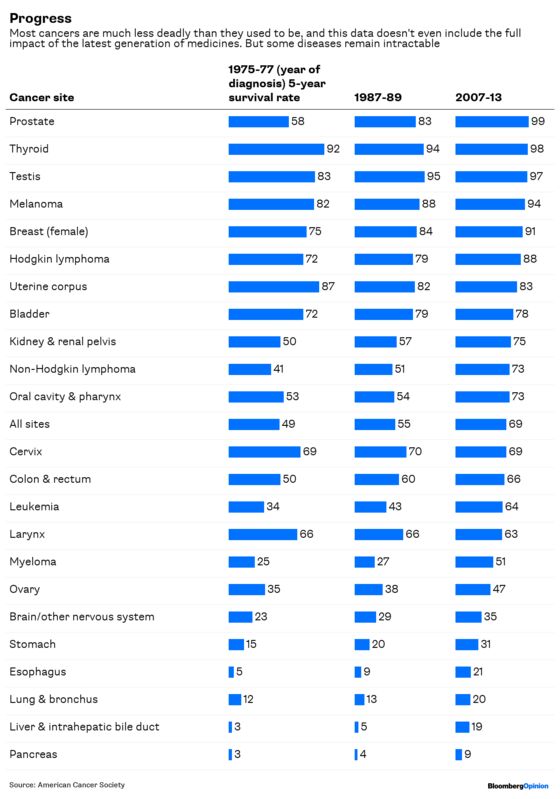 It's a big undertaking. Many previous efforts over the past few decades to create personalized immune therapies have been scientific or commercial flops. TCR therapies are still unproven, as is Adaptive's ability to point Genentech in the right direction.
Cancer patients can't always wait for months, and it won't be easy for Genentech to rapidly create custom medicines in a cost-effective way. Early, less-customized cell therapies have made that clear — they're expensive and have been hampered by manufacturing issues. And the clinical-trial approach and regulatory pathway for this project may have to be as customized as the drugs are.
But Genentech is one of the few firms that could pull this off. The unit has a rich history of scientific and commercial achievement. Its parent company Roche has pharma's largest diagnostic unit, and an affinity for unusual and forward-looking technology deals. That makes it a particularly apt partner for Adaptive. It also spends more on R&D than any other company in the sector, which doesn't hurt.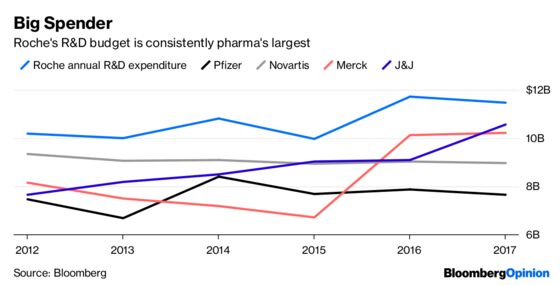 A high-upside bet makes sense for Roche. Three key (Genentech-developed) blockbuster cancer drugs are finally facing biosimilar competition. The firm has a solid crop of drugs to take their place, but it still needs to seed the next generation of growth drivers. Big advances don't happen without big risks, and the Adaptive licensing deal is arguably a better use of capital than paying a huge premium for a later-stage therapy with more limited potential.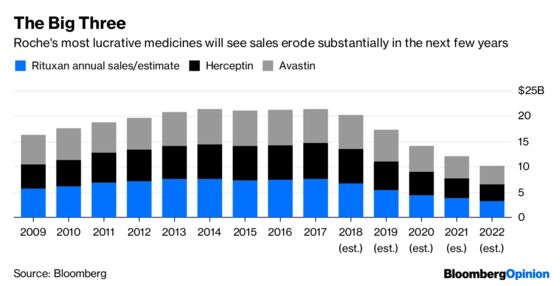 The partnership may never move beyond a few specific cancer markers. But a truly personalized approach seems to be a real priority for both parties, and it has enormous potential. 
Bristol-Myers's purchase of Celgene will have a far bigger immediate effect on the industry. But there's a version of the future where this comparatively tiny deal ends up having more of an impact.
This column does not necessarily reflect the opinion of the editorial board or Bloomberg LP and its owners.
Max Nisen is a Bloomberg Opinion columnist covering biotech, pharma and health care. He previously wrote about management and corporate strategy for Quartz and Business Insider.