Roche Does Pharma M&A Without the Pharma
(Bloomberg Opinion) -- As some big pharmaceutical companies turn to acquisitions to beef up their drug pipelines, Roche Holding AG is taking a different tack. 
The Swiss giant agreed Tuesday to pay $2.4 billion to buy out the remaining shareholders in Foundation Medicine Inc., a cancer-focused gene sequencing company in which it holds a more than 50 percent stake. It follows Roche's $1.9 billion purchase earlier this year of Flatiron Health Inc., which collects and analyzes real-world data on how cancer patients are treated. These were Roche's two biggest deals since 2014.
The Foundation deal comes at a hefty premium, and may be a disappointment to investors who would have preferred a more typical acquisition focused on an actual, existing drug. The approach is especially unusual because Roche's three best-selling drugs are set to face generic competition over the next few years, something that would normally send drugmakers scrambling to overpay for late-stage drug assets.  But these deals suggest Roche is looking pretty far into the future in a way that may have significant benefits.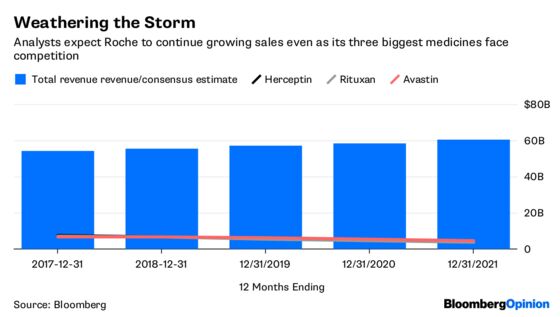 Roche seems committed to its own research efforts and licensing deals, and has significantly outspent rivals on R&D. Since its $44 billion deal for Genentech Inc. nearly a decade ago, it has spent far less on M&A than its big pharma rivals, and the spending it has done has frequently been on non-drug companies. The strategy has largely worked. Roche has consistently generated promising medicines including multiple sclerosis drug Ocrevus and hemophilia drug Hemlibra that are expected to help it weather the declines of its older blockbusters. 
If the company is focused on R&D, it makes sense to spend aggressively on things like Foundation and Flatiron. Both companies provide huge amounts of valuable data that may help Roche better direct its investments, come up with ideas, and boost its success rate. Also, the two acquisitions may help Roche get more out of current and future treatments, including drugs it, too, went out and purchased (note, its recent deals have tended to be small by pharma standards). That's especially the case for medicines targeting patients with specific genetic characteristics.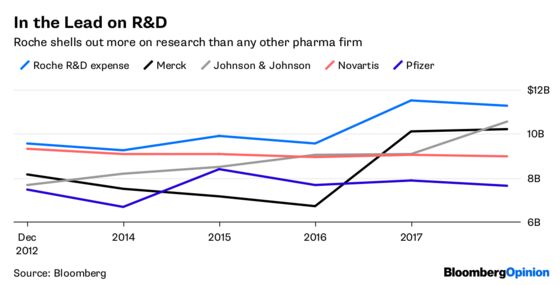 For instance, Roche paid $1.7 billion earlier this year to buy Ignyta Inc., which is developing a drug that isn't targeted to a tumor in a particular part of the body, but to a specific (and rare) genetic mutation that can occur in multiple types of cancer. This is a novel concept in cancer treatment, and finding those patients is going to be difficult. 
Advancing personalized cancer treatments is what Foundation is all about. Roche's growing trove of data and ability to help more patients get tumors sequenced will help it be ahead of the curve in promoting the use of Ignyta's medicine, as well as similar drugs that follow it and Roche's current lineup of targeted therapies. 
So while Foundation and Flatiron may be atypical targets for a large pharmaceutical firm, they anticipate where cancer research and the drug industry are likely to go over the next decade. Buying the two is a better strategy than doing panicked deals for drugs that may end up being flops, and Roche is right to use its financial strength and pedigree to pursue them.