Roche Left Seeking a Niche as Merck Dominates Lung-Cancer Market
(Bloomberg) -- Roche Holding AG is starting to look more like a niche player in the hottest new field in oncology, as lung-cancer study results unveiled on Monday failed to meet the benchmark set by U.S. rival Merck & Co.
It's still unclear whether and how much Roche's drug Tecentriq can extend the lives of patients with the most common type of lung cancer when added to chemotherapy, the Basel, Switzerland-based company said in a patient trial presented Monday at the World Conference on Lung Cancer in Toronto. The results mean Roche will need to concentrate for now on less common -- and less lucrative -- types of tumors.
Roche needs new drugs to offset patent losses and cheaper competitors for its three biggest cancer medicines. The Swiss company has sought to steer investors' attention toward potential successes in breast and liver tumors and a less common form of lung cancer. But expectations for Merck's Keytruda show the magnitude of the missed opportunity: By 2020, analysts estimate the drug will bring in about $11 billion in annual sales. Some expect that most previously untreated lung-cancer patients in the U.S. will be taking the medicine by the end of this year.
Roche is starting off with "a tough row to hoe," said Paul Bunn, a professor of medical oncology at the University of Colorado. Bunn, who wasn't involved in the Tecentriq study, cautioned that it's too early to draw a full comparison between the rival companies' results. Still, with Merck's drug already being widely used, he said, "there's probably not a lot of data to make you switch over."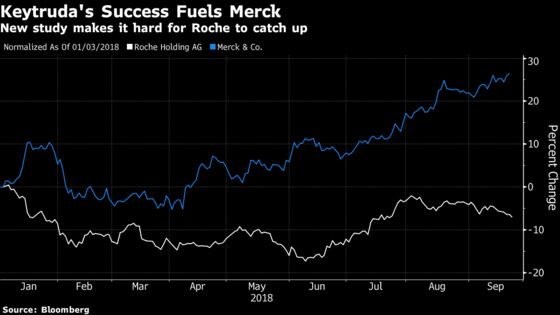 Like Merck's Keytruda, Tecentriq works by unleashing the immune system to fight tumors. In the study, dubbed IMpower132, Roche's Tecentriq reduced the risk of tumors getting worse or patients dying by 40 percent when added to chemotherapy, compared with chemotherapy alone. But the key metric is whether it helps patients live longer, something that probably won't be clear until the first half of next year, said Vali Papadimitrakopoulou, a professor at the University of Texas MD Anderson Cancer Center. She led the trial for Roche.
One confounding factor is that unlike in earlier tests, people in the Tecentriq study had access to other immune therapies once their tumors got worse, Papadimitrakopoulou said. When all patients can eventually get immune therapy, it gets tougher to prove that an experimental immune treatment is extending lives.
"I think it's going to be harder and harder for clinical trials following the original study from Merck that was the forerunner for all of them," Papadimitrakopoulou said.
The market for non-small-cell lung cancer, the form of the disease studied in IMpower132, could reach more than $20 billion annually.
Keytruda has been on the market in the U.S. in combination with chemotherapy since last year for the disease, and in a similar trial, it slashed patients' risk of dying in half.
"I think we've defined the floor pretty much going forward," said Roy Baynes, Merck's chief medical officer. "If a trial comes in and it's got a statistically significant, let's say 10 percent reduction or 20 percent reduction, although it's a cross-treatment comparison, I suspect people will say, 'Gosh, I prefer 50.'"
Keytruda's risk reduction for either tumors getting worse or patients dying, the same combined data point Roche reported on Monday, was also better than Tecentriq's result: 48 percent.
Roche did win a victory in a separate trial of patients with small-cell lung cancer. The Swiss company will present detailed results Tuesday at the Toronto conference. The company estimates that 25 percent to 35 percent of lung-cancer patients will derive significant benefit from Tecentriq. Alongside breast cancer, lung tumors are the most common type of cancer, according to the World Health Organization.
"Lung cancer isn't what it used to be 20 or 30 years ago, where it was one size fits all and you give one treatment to everybody," said Alan Sandler, development head for lung cancer at Roche. "Physicians and patients now have multiple options."