AutoStore Surges in Oslo Debut on Booming Warehouse Robot Demand
(Bloomberg) -- AutoStore Holdings Ltd. jumped in its Oslo trading debut after pricing shares at the top end of the marketed range as an online shopping boom and labor shortages drive up demand for its automated warehouse robots.
Shares gained as much as 11% from the IPO price of 31 kroner a share, which valued AutoStore at 103.4 billion kroner ($12.4 billion). 
The company sells robots used in the storing and retrieval of goods in warehouses. As coronavirus restrictions led to a surge in online shopping, demand for AutoStore's products shot up. Now, pressing labor shortages are fueling increased interest in automation.
"Given the rise of e-commerce and today's labor shortages, AutoStore's IPO in warehouse automation has great timing," Ben Nuttall, senior analyst at Third Bridge, said in emailed comments.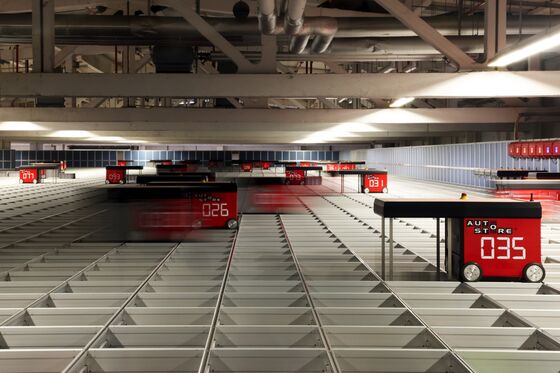 The SoftBank Inc.-backed company raised 2.7 billion kroner, while shareholders Thomas H. Lee Partners and EQT AB sold 430 million and 47 million shares in the offering, respectively.
The share sale ranks among the biggest ever in Norway. Statoil ASA, the oil major now known as Equinor ASA, and the Norwegian government raised 26 billion kroner in an initial share sale in 2001, the country's largest to date.
Its sales jumped 88% in the first half of 2021 to about $150 million, AutoStore said.
If there is enough demand, underwriters can sell another 87 million shares in the offering.
Carnegie Investment Bank, JPMorgan Chase & Co. and Morgan Stanley were global coordinators on the IPO. ABG Sundal Collier, Citigroup Inc. and Jefferies Financial Group Inc. were joint bookrunners.