Robot Sings Eurovision Kitsch Composed by Oracle AI, Israelis
(Bloomberg) -- What do you get when you cross a computer with some corny lyrics? A Eurovision song, apparently.
With 41 countries competing in the annual contest this week in Tel Aviv, a team set about to marry traditional Eurovision kitsch with the power of artificial intelligence. After hundreds of past Eurovision songs were fed through an algorithm developed by Oracle Corp., the result is "Blue Jeans and Bloody Tears," a melodramatic tale of disillusioned love that Israel's 1978 Eurovision winner Izhar Cohen sings in a duet with a pink robot.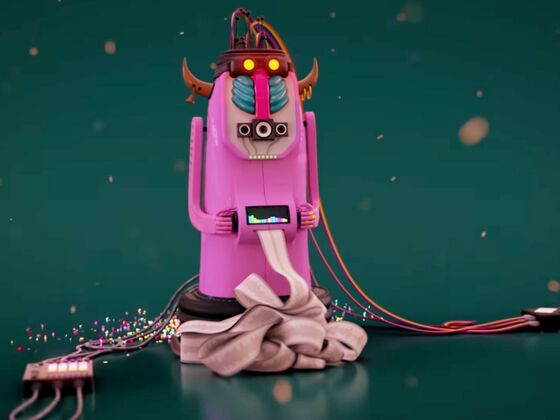 It's the first time a song associated with the contest was written by artificial intelligence, while maintaining the kitsch, glam and gimmicks of the human-originated music.
"Nobody has tried to do this before," said Asaf Sobol, senior business development lead at Oracle Israel. "It wasn't just about composing the song, but first investigating the DNA of a successful Eurovision song and then getting the computer to write one."
Human-Computer Collaboration
Israel is hosting the contest for the first time in 20 years after Netta Barzilai's "Toy" won last year's competition in Brussels. The AI song, co-written and performed by humans and computers, extends the underlying principle of a contest initially designed to test the limits of live broadcast technology.
Oracle's engineers had just two months to work on the project. The breakthrough came when engineers saw the neural network they had created pick up speed, and they knew they'd be able to have a song ready before the May 18 final.
Even though it's not officially part of Eurovision, the song has garnered more than 58,000 views so far on YouTube. Some Reddit users said the song would have been ranked among the 10 finalists in this year's contest, particularly for lyrics such as: "There's no life without your life in misery," and "Tears will always have wet eyes."
"The end result is a song comprised entirely from 100 percent lyrics and melody generated by the algorithms," said Nimrod Shapira, the creative mind behind the project. "It was mind-blowing."
Not everyone shared his enthusiasm. Some Reddit commentators thought the song should carry a more positive message, while others lampooned the title.
"If you have bloody tears, be careful, or you will get them on your blue jeans," one commentator wrote.