Robinhood Tumbles as Retail Slowdown Warning Hits Outlook
(Bloomberg) -- Robinhood Markets Inc. slumped after warning cryptocurrency-driven trading that fueled quarterly revenue may quickly fade.
The online brokerage, which became a household name as cooped-up users bet on assets like cryptocurrency Dogecoin and meme stocks, fell 10% on Thursday. The company said seasonal issues and lower trading activity will impact third-quarter results.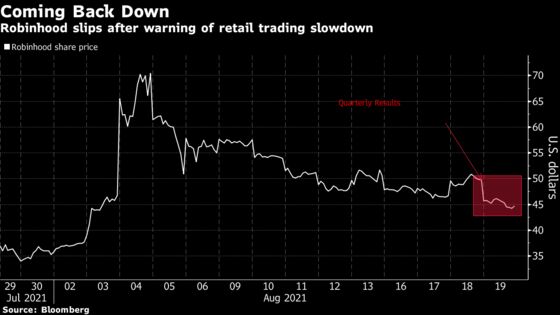 "The narrative is starting to unwind," said David Trainer, chief executive officer of research firm New Constructs. Robinhood's guidance that trading activity and account growth may slow is a major warning to investors, he said, with expectations that the company's performance will "be nowhere near what's required to justify the stock price."
The stock remains up 18% since its IPO, giving it a market value of $38.2 billion, and markedly outperforming the S&P 500 Index over the same period. Wild swings in the first weeks of trading amid rising interest from amateur investors drew Wall Street to brand the trading app a so-called meme stock.
The company is "at a pivotal point as equity trading volume fades and active app users and downloads slip from a strong 2021 start," Bloomberg Intelligence analyst Julie Chariell wrote. 
Robinhood's revenue topped expectations powered by users who gambled on digital assets like Dogecoin and Bitcoin as prices soared then tumbled. While the flurry of crypto trading powered results, fading euphoria around Dogecoin paired with expectations for less active trading as the U.S. economy reopens further may impact the brokerage's growth.
Wolfe Research analyst Steven Chubak warned clients to "beware of DOGE" given its outsized contribution. Expectations for a third third-quarter slowdown "could be much more acute than many investors were anticipating."
Menlo Park, California-based Robinhood, which went public last month, bought Say Technologies, a tool for shareholder voting and communication, earlier this month.