S&P 500 Bears, Uber and Fixing Notre Dame
(Bloomberg Opinion) -- My midweek morning train reads:
• All the Stuff Bears Are Saying to Spoil the S&P 500 Record Party (Bloomberg)
• Stocks are at an all-time high. Here's what stopped the last 12 bull runs (CNN)
• The Dark-Money Lobbying Group Going After Pension Funds: What is behind the Institute for Pension Fund Integrity? (Institutional Investor)
• Will Netflix eventually monetize its user data? (The Conversation)
• Uber Questions (Stratechery) see also Uber's Coming out Party: Personal Mobility Pioneer or Car Service on Steroids? (Musings on Markets)
• Clorox and Unilever Want the Booming Bacteria Business to Thrive (Bloomberg Businessweek)
• Why Does It Always Take a Crisis to Get Something Fixed? Notre Dame was supposed to take 30 years to fix. After the fire, it could be rebuilt in a mere five. (Slate)
• How tech founders are trying to disrupt — and replicate — the Giving Pledge (Recode)
• Chalking Tires and the Fourth Amendment (Reason)
• Did a Meteor from Another Star Strike Earth in 2014? (Scientific American)

Health Care Is Hurting While Tech is Hot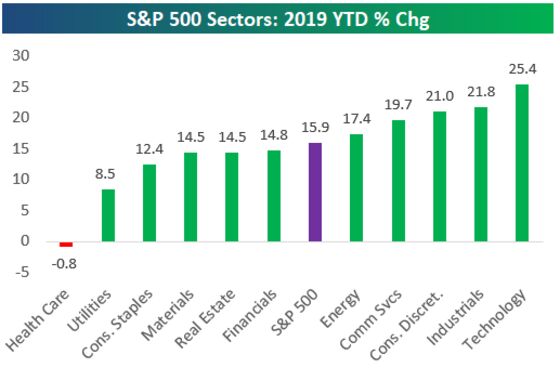 This column does not necessarily reflect the opinion of the editorial board or Bloomberg LP and its owners.
Barry Ritholtz is a Bloomberg Opinion columnist. He founded Ritholtz Wealth Management and was chief executive and director of equity research at FusionIQ, a quantitative research firm. He is the author of "Bailout Nation."