Risk Rally Wipes Out $1 Trillion of Negative-Yielding Debt
(Bloomberg) -- The latest clash in the global trade war is testing the risk-on mood of recent weeks -- and threatens to derail the steady erosion of the world's pile of negative-yielding debt.
The pool of such securities has shrunk by more than $1 trillion over the past month, drained by the animal spirits and upbeat growth outlook that have fueled appetite for riskier assets like stocks at the expense of fixed income.
The market value of bonds with below-zero yields now stands at $6.55 trillion -- the lowest since mid-2017 -- after declining for five weeks, the longest streak since January.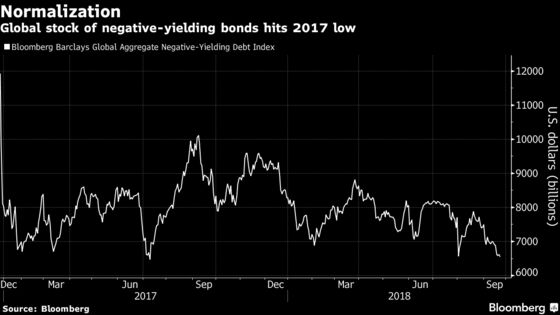 News China has called off planned trade negotiations with the U.S. threatens to undermine that trend, however. Increased protectionism risks upsetting global expansion, with G-8 economies poised to deliver the fastest growth in at least eight years. It also threatens steps toward tighter policy from the world's largest central banks.
For now, a rate hike by the Federal Reserve is fully priced in for Sept. 26. The European Central Bank is expected to slash bond purchases starting in October before ending them altogether by January. Governing Council member Ewald Nowotny said on Sunday that officials should consider monetary tightening sooner than originally planned.
Even the Bank of Japan is joining in. It reduced purchases at its regular operation on Friday, with traders deeming the move 'stealth tapering.' It's all helping the bond market to say good riddance to many negative yields, one of the much-maligned legacies of extraordinary stimulus.
The stock of debt with yields below zero comprises obligations issued by governments, companies and mortgage providers around the world which are members of the Bloomberg Barclays Global Aggregate Bond Index.