Risk Consultant PRS Plays Down Risk of Bolsonaro's Populist Past
(Bloomberg) -- Brazilian presidential frontrunner Jair Bolsonaro is likely to ditch his populist tendencies should he win election this month, according to Christopher McKee, chief executive officer of political consultant PRS Group. What's more, the nation's fiscal woes aren't that bad.
"These populist guys, I tend not to be as worried about them as most people," said McKee, whose clients include BlackRock Inc. and the International Monetary Fund. "There have been so many examples of these sorts of strongmen coming to power, and they're actually not that bad."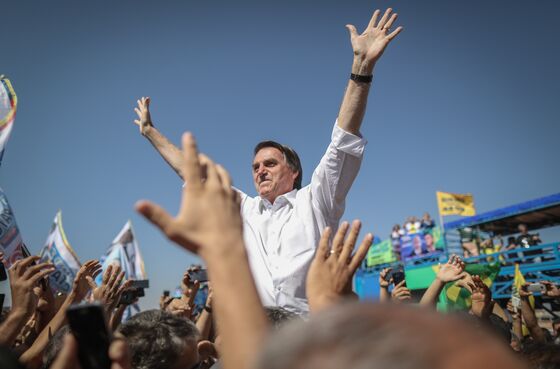 Bolsonaro hasn't talked much about economics for most of the campaign, deferring questions to his would-be finance minister, Paulo Guedes, a market darling who wants to sell state-owned companies. Yet there have been questions about how solid this partnership is, given that many of Guedes' proposals go against what Bolsonaro has voted for in his 30 years in Congress.
McKee says that like so many strongmen before him, Bolsonaro is likely to end up surrounding himself with a market-friendly cabinet, paving the way to economic reform.
"This is not a politician who has deep roots in the financial community," McKee said in an interview from Charlotte, South Carolina. Yet "he could surprise because there have been examples in Latin America in particular where they've been able to pull it off, and that could very well be the case this time."
Fiscal reform may become more pressing if there is a downturn in global growth or Brazil's sovereign rating is downgraded, he said. But at the moment, it may not be as urgent as many feel.
Brazil has needed to tackle this issue "for the last quarter of a century," McKee said. "That's why I tend to be more bullish on Brazil than most people – this is nothing new."