Rising Yields Pose Risk to Large-Cap Pharma's Red-Hot Rally
(Bloomberg) -- Large pharma's massive rally is facing a speed bump.
For the first time in a decade, the 10-year Treasury yield is paying more than most large-cap pharmaceuticals' dividend yields, Jefferies' health-care specialist Jared Holz points out, which poses a risk to the high-flying sector. Druh stocks just posted their biggest quarterly gain in 18 years as investors weary of rising protectionism flocked to more defensive areas. The Health Care Select Sector SPDR ETF, for one, attracted more than $2.3 billion in the September quarter -- an all-time record for the fund.
The fund's largest holdings, pharmaceutical stocks such as J&J, Pfizer and Merck, have benefited the most, sending dividend yields lower, Holz wrote in a note. In fact, the 2.64 percent dividend yield on large pharmas is the lowest in more than 10 years, data compiled by Bloomberg show. That compares with the 10-year Treasury yield of 3.21 percent, near the highest since 2011.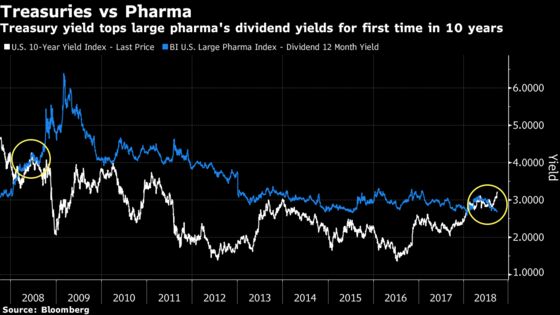 The most "intriguing" stock in this environment is Pfizer, Holz said, adding that new investors could be "slightly less inclined" to buy the stock at current levels, if bond yields continue to move higher as the Fed continues to tighten. Merck and Lilly show a similar trend, while Bristol-Myers and J&J are less clear, he said.