Rising Fed Funds Rate to Sharpen Focus on Bank Reserves Question
(Bloomberg) -- The Federal Reserve may be forced to acknowledge that factors such as bank liquidity needs are contributing to a rise in the central bank's benchmark rate, according to Bank of America interest-rate strategist Mark Cabana.
The effective fed funds rate rose to 2.20 percent on Tuesday. While that's still within the central bank's current target range of 2 percent to 2.25 percent, it is for the first time in this tightening cycle on par with the rate that the central bank pays for excess reserves kept at the Fed. That particular rate was disconnected from the main Fed range back in June, when policymakers chose to raise it by five basis points less than the target in a bid to help manage the benchmark within its overall band.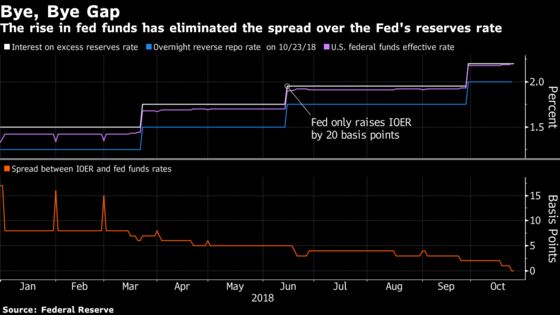 Since then, the fed funds rate has risen further, potentially complicating how money markets are pricing the prospects for future rate hikes. It raises the specter of additional tweaks to the IOER rate relative to the target. For some, it also underscores the need for the Fed to kickstart its discussion about what the ultimate size of the balance sheet and bank reserve levels ought to be.
The bulk of this year's increase in effective fed funds has been driven by the central bank's three interest-rate hikes. But it has also been supported by the reduction in the Fed's balance sheet and an increase in Treasury supply that has pushed money-market rates higher, especially in the market for repurchase agreements.
The Fed itself noted in minutes of its September policy meeting that elevated repo rates may have contributed to the tight spread between IOER and fed funds, and said there were no signs that the upward pressure was due to a scarcity of reserves in the banking system. Not everyone is convinced.
"The Fed needs to come to grips with the other factors that are driving the fed funds rate," said Cabana. "I remain dubious of the claim that there are no signs of reserves declining. It seems like the Fed is writing them off to justify the ongoing balance-sheet unwind because they're not ready to have the conversation about the end stages."