Rising Bond Yields Boost Equities as Positive Correlation Holds
(Bloomberg) -- Higher U.S. bond yields aren't to blame for the lackluster stock-market returns of the past three months.
So says Credit Suisse's chief U.S. equity strategist Jonathan Golub, who found that the Russell 1000 Index has performed much better this year when bond yields went up. Specifically, the index has accumulated gains of 8.2 percent on days when 10-year Treasury yields rose, compared with losses of 6.3 percent when yields fell.
"Many investors are espousing the view that higher rates are the cause of 2018's higher volatility and weaker performance," Golub wrote in a note to clients Monday. "The data clearly contradicts this assertion."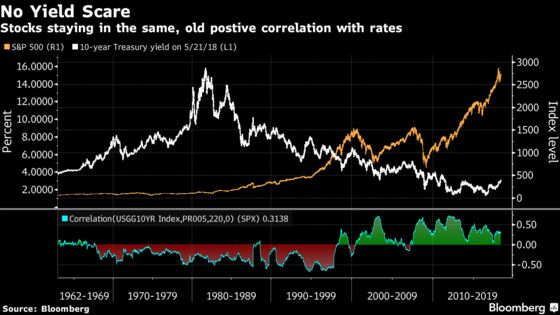 One prevailing fear this year was that stocks would become less attractive relative to bonds as the Federal Reserve continued its monetary policy tightening. Higher rates would also make it more expensive for companies to borrow money, eroding profit gains even as the economy expands.
That theory has been battered in recent weeks, with the S&P 500 heading for the best month since January at the same time 10-year yields spiked above 3.1 percent for the first time in seven years.
Part of the gains came from corporate profits that grew 24 percent, the fastest pace in seven years. The surge boosted the S&P 500's earnings yield to an extent that the runup in bond yields by 50 basis points did little to dent the stock market's advantage over fixed income.
The latest resilience doesn't mean the equity market will take ever higher yields in stride. Wall Street equity strategists agree that it'd be a mistake to ignore the yield risk, though they're split on the levels at which bond yields pose an imminent threat to stocks.
According to Golub, the red line is at 3.5 percent in the 10-year yield, about 44 basis points above its current level. David Kostin at Goldman Sachs sees danger at either 4 percent or a one-month surge in rates of roughly 20 basis points or more.
For a large part of the past two decades, stocks and bond yields have enjoyed a positive relationship, meaning higher yields tend to go hand in hand with higher equity prices. That's been the case as inflation has been nowhere to find, leaving economic growth the main driver for both assets.
Yet as the economic recovery approaches its 10th year and the labor market tightens, inflation may creep up, causing the link to break down. In other words, rates may keep going up, but stocks may suffer should companies fail to pass on higher costs to customers. Such negative correlation persisted in the three decades through 1998, when consumer price gains were running at 5 percent a year.
"Rising labor costs, commodity prices and logistics costs post a significant risk to S&P 500 profit margins," Kostin wrote in a note to clients Friday. "As a result, the ability of companies to increase earnings growth to offset valuation contraction stemming from rising interest rates may be constrained."