Riksbank Lifts Veil on Krona Concerns After G10's Biggest Slump
(Bloomberg) -- Even the Riksbank is now showing some concerns about the selloff in the krona.
Minutes from the February meeting released on Friday showed that "some board members also discussed the recent depreciation of the krona." Deputy Governor Martin Floden even suggested that a weaker currency could play a part in him advocating for another rate increase already in two months.
"An increase in April could possibly be justified if the krona continues to be weak, if the three forthcoming inflation outcomes indicate higher inflationary pressures and if at the same time the economy develops well," Floden, traditionally one of the board's more hawkish members, said in the minutes.
Even Riksbank Can't Rescue Krona Forecast to Be the Best in 2019
The minutes overall revealed a wait-and-see approach, reflecting the board's outlook for higher rates later this year. The krona strengthened 0.2 percent to 10.597 per euro as of 10:18 a.m. in Stockholm.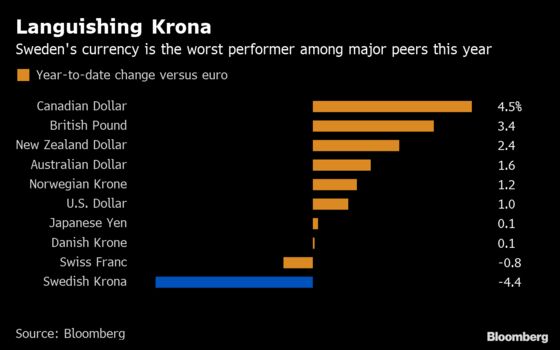 The bank this month held its benchmark rate unchanged at minus 0.25 percent after in December tightening for the first time in seven years. Policy makers also kept their outlook for a second tightening in the second half of this year, offering an upbeat message, while acknowledging risks to economic growth both domestically and internationally.
Deputy Governor Per Jansson couldn't attend the meeting, but indicated in a separate statement also released on Friday that he supported the decision.
Following are some of the key comments from the minutes of last month's rate meeting.
Governor Stefan Ingves:

"The repo rate path, which provides the basis for the forecasts in the draft Monetary Policy Report, predicts continued rate hikes during the forecast period, but at a pace that is very slow in relation to previous rate-rise cycles. Three recurring questions in the context are what happens with the level of interest rates and economic developments in Europe in combination with our own exchange rate. The difficulties inherent in exchange rate forecasts are well captured by recent developments when we, as we almost always do, forecast an exchange rate appreciation at the same time as developments are going in the opposite direction."
Deputy Governor Kerstin af Jochnick
"For some time, different measures of core inflation have generally been lower than CPIF inflation and below the target of 2 per cent. In the near term, however, core inflation is also expected to rise towards the target as a result of higher rents, rising food prices and the effects of the weak krona."
Deputy Governor Henry Ohlsson


"Inflation has now been close to the target of 2 per cent for a longer period of time, both with regard to outcomes and expectations. This was the decisive argument for me in December that it was time to start raising the repo rate. The rate path adopted in December implies about two rate hikes per year in the coming years. At today's monetary policy meeting, I consider it appropriate to leave the repo rate and the repo rate path unchanged"
Deputy Governor Cecilia Skingsley
"If the repo rate path materializes, there will be a new rate increase in the second half of this year, and according to the rate path, this increase will happen when inflation measured in terms of the CPIF is a few tenths below target. I wish to be clear that I see it as possible to increase the policy rate even in situations when actual inflation is not on or above the two-percent target."