Richest Nordic Nation Gets Banking Giant After Rates Diverge
(Bloomberg) -- Norway is the only Scandinavian country that never resorted to negative interest rates. It now seems clear that its monetary policy choices helped its biggest bank.
DNB ASA, which is based in Oslo, has enjoyed growth in recent years as most of its biggest competitors have fallen behind. Its share price has swelled so much that it now vies with Nordea Bank Abp for the title of biggest Nordic bank by market value.
DNB shares rose as much as 1% on Thursday and were up 0.6% as of 9:39 a.m. in Oslo
Kjerstin Braathen, the chief executive of DNB, points to the very different interest-rate environment that her bank has enjoyed.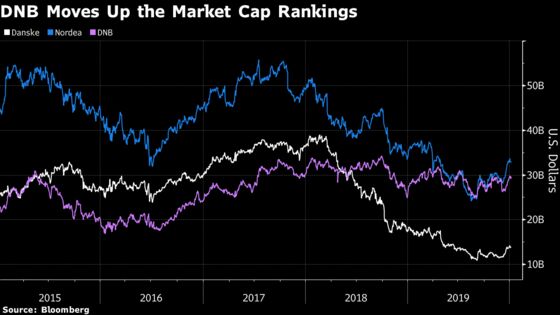 "Banks live off margins to a large extent, so having positive rates and a very strong macroeconomic situation has been an important element to help DNB perform," she said in an interview in Oslo on Wednesday.
While other central banks across the region have clung on to stimulus, in Norway "we've had four interest rate hikes since September 2018," Braathen said.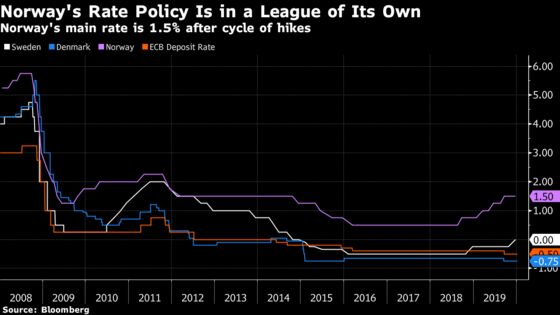 Norway stands out as one of the world's richest nations. Its vast oil wealth has freed the government to prop up the economy with stimulus while the rest of Europe has stuck with fiscal parsimony. Unlike elsewhere in the world, the central bank in Norway wasn't the only game in town.
Even Norway, which can fall back on a $1.1 trillion wealth fund if times get tough, needs to exercise caution occasionally. The country's economy relies heavily on exports, and the central bank has signaled it's in a wait-and-see mode as tensions across the globe play out.
"The current expectation is not further increase but for the rates to stay at the level they're at," Braathen said. "And for us that is important."
"Rates are still at a low level," she said. That means that even if there were further rate hikes, "we're nowhere near an interest rate level that would be damaging in a way."
It's also worth noting that a number of Nordic banks have suffered share-price declines amid allegations of money laundering. But DNB hasn't been completely spared. It was hit by a sell-off in December after it emerged the bank was the subject of a police investigation tied to dirty money flows stemming from an Icelandic fishing company.
Braathen said DNB is still working on getting "full visibility into the matter."
The bank is also exposed to the Baltic region via its holding in Luminor, which is majority held by Blackstone Group Inc.
"Money laundering and the fight against financial crime is something we take very seriously," she said. "We're focused on improving and developing our processes and systems in that area."
Though the Baltics have emerged as ground zero for most Nordic laundering scandals, Braathen says DNB is committed to its presence there.
"We believe in the market," she said. "The competitive situation has improved. The strategic position of the business is better than ever. They have performed above expectations so far. So the plan for now is to maintain our 20% and take out synergies and develop the business with Blackstone."