Richest 10% of Finns Hold Half the Country's Wealth
(Bloomberg) -- The richest 10% in Finland held half the wealth in the Nordic nation before the pandemic, increasing their share relative to other groups.
The wealthiest decile owned 49.6% of total net wealth in 2019, compared with 36.6% in 1988, Statistics Finland said on Tuesday, citing data published roughly every 3 to 4 years. The median for households' net wealth was 104,000 euros ($127,000).
While the Nordic countries have some of the lowest levels of income inequality, according to OECD data, there are less statistics on wealth concentration in the region. Still, gains in the prices of financial assets and housing during the crisis have also raised concerns of widening inequality in the countries that top the global sustainability and happiness rankings.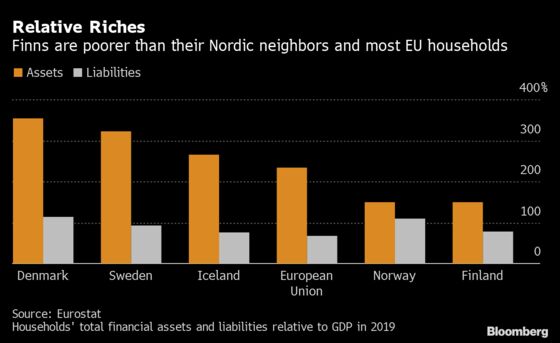 "In the big picture, Finns aren't really very wealthy in international comparisons," said Henna Mikkonen, head of macro analysis at the cooperative Savings Banks Group. Yet such data "tend to mask differences in cultures and practices -- such as whether people amortize their mortgages or are used to investing in financial markets or whether pension assets are invested for the people or whether they are able to invest a part themselves."
About 95% of Finland's net wealth had accumulated in the hands of the richer half of the population, the office said. That means the poorer half of inhabitants control just 5% of net wealth, down from about 10% in 1988.
The most common assets were savings, vehicles, a dwelling, while just over 40% owned listed shares and mutual funds. Six in ten households were in debt.
Organizations including the International Monetary Fund have cited worries about an unequal recovery as the wealthy have benefited from higher asset prices, while many service-sector workers remain jobless. The wealth of the world's richest has surged by $5 trillion in the past year, according to the United Nations Secretary-General Antonio Guterres, who last month urged countries to institute a wealth tax.
Read More: Richest 1% Benefit Most From Ultra-Low Rates, Danish Study Finds
Still, it's possible the pandemic has halted or eased the wealth divergence to some extent, Mikkonen said by phone.
"House prices have increased in a number of areas, debt growth continued, and people saved more during the pandemic. These underlying dynamics are bucking some of the older trends, and have the potential to change the wealth distribution somewhat," she said. "House prices in particular may have been an equalizing factor."