Rich Buyers Seeking Open Spaces Fuel a Housing Boom in U.S. West
(Bloomberg) -- David Park, a Manhattan-based investor planning his escape in case the resurgence of Covid-19 forces another New York City lockdown, is looking to join a great American tradition: a trek out west.
Park and other affluent Americans preparing for their first pandemic winter are shopping for homes in mountain towns across the western U.S. where they can safely venture outside to hike, ski and snowshoe. Out-of-state bidders who can work remotely are pricing out locals, sometimes buying properties sight unseen, for cash. Western Montana prices have jumped 17% in just the past year.
The West, with its open spaces, has always had a romantic appeal for Americans, but in the age of Covid -- urbanites imprisoned in high-rise buildings want more than ever to feel free. Though coronavirus cases are on the rise in Montana, there's plenty of elbow room if you're serious about social distancing.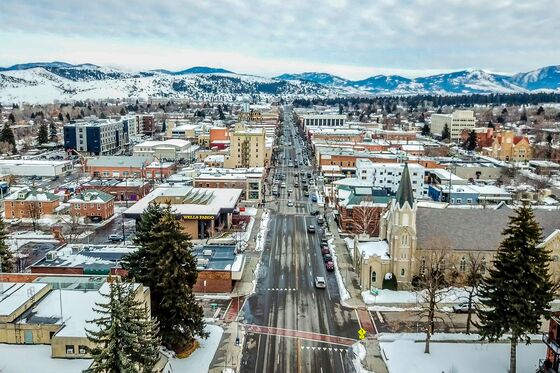 "These are places that usually have a great quality of life but lack the types of jobs that affluent and educated households desire," said Ralph McLaughlin, a housing economist who lives in a mountain town near Yosemite National Park in California. "Now that these households can work and educate their kids from just about anywhere, they're voting with their feet."
Park is hunting for a place for his family in Montana, for less than $2 million, with ski slopes close by. The competition is getting stiff.
"Covid made us feel more urgent to have a place to go to if New York City were to shut down again," said Park, an investor with a wife and three kids. "We just thought, if we could go anywhere, where would we go?"
The biggest cities in Montana, the fourth-largest state by area, with only a million residents, were getting expensive before the pandemic. But living costs took a big jump in cities like Bozeman, 90 minutes outside now-crowded Yellowstone National Park and Whitefish, a resort town where the typical annual household income is a 10th of the median home price.
Missoula, the city crossed by three rivers that inspired the book and movie, "A River Runs Through It," is in the grips of a severe housing shortage. Apartment rents jumped 9% in the third quarter from a year earlier with vacancies approaching zero. The Missoula City Council, desperate to create affordable housing, last month approved a community of one-room pods that are popular in pricey urban areas like Silicon Valley.
Listing prices in September gained 26% to $538,000 in Missoula, according to Realtor.com. By comparison, asking prices nationally rose only 11% to $350,000.
Samantha Booth and her husband, who lived in the nation's capital, had been toying with the idea of eventually moving back to her childhood home of Bozeman. Then Covid-19 hit and they felt trapped in their 500-square-foot apartment, which also became their home office.
"Both working from home in such a small space was tough," Booth said. "In D.C., we didn't have a car or anything, which limited us to a radius around the apartment -- as far as we could walk."
So they pounced on a two-day-old listing for a 2,500-square-foot townhouse in Bozeman for $459,000. They needed to act quick. Another offer was coming. By August, they had moved in, signing the contract before the housing rush was in full swing.
Bozeman-area prices surged 16% this year from the same period in 2019. Sales in the county that includes Bozeman jumped almost 50% in September. At that pace, there's about a month's supply of homes on the market.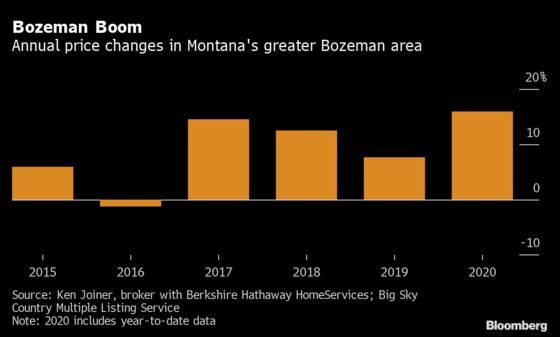 Booth now works remotely as government-affairs manager for the Washington-based Housing Assistance Council, a group that focuses on rural America's worsening affordability problems. She couldn't be in a better place.
Montanans looking for service-sector work can find it in thriving Bozeman, with tourism stronger than ever. Then they discover that just looking for an apartment can be ruinous, said Heather Grenier, chief executive officer of the Human Resource Development Council, a Bozeman group that runs a seasonal homeless shelter.
"They spend all their savings meant for a deposit and first-month rent on the hotel room, just waiting to find an available rental," Grenier said. "They end up in a bad spot."
David Park, who moved from Houston to Manhattan's Upper West Side about a year ago, took a road trip through the western U.S. this summer with his family, a silver Airstream travel trailer pulled by a Ford F-150. That's when he fell in love with the Whitefish area and began touring properties with a local agent, Tory Baughan, who says his more than a dozen deals since March were all with out-of-state buyers.
Park says he's looking for a place to own for the long run, not just because of Covid. He'd either buy a house or a piece of property and build on it. Glacier National Park was getting ready to start direct flights to New York before the pandemic. That would, of course, make it more convenient, he said.
If another New York lockdown happens soon, he'll probably look for something closer. But he's still got his eye on Montana, where it pays to act quick. One seller nearly doubled the price of a piece of land Park was considering, to about $500,000, two days after it was listed, he said.
"Things are moving quickly," he said.