Rich Asians Feel Pain on $10 Billion Bond Bets After Crash
(Bloomberg) -- Risky bond investments that wealthy Asians often made with borrowed money are coming back to haunt them after the credit market's crash.
Before the coronavirus pandemic roiled global financial markets this year, those investors piled into so-called fixed maturity funds in a hunt for stable yields. Barclays estimated last month that there's more than $10 billion of such products outstanding in Asia.
The problem: many of the funds bought loads of high-yield bonds that have since tanked, and their investors frequently borrowed heavily to pay for them. The funds had lost about 15 to 20% of their value as of March, according to an estimate by BondEvalue. Credit products have recouped some of their losses this month, but are still highly volatile.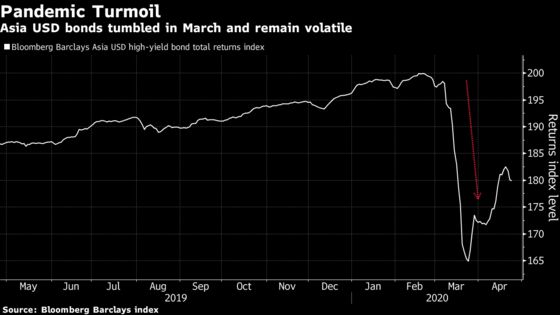 "Fixed maturity funds have caused huge problems for investors," said Rahul Banerjee, an ex-Standard Chartered banker and founder of BondEvalue, a fintech firm that provides bond pricing services to investors. "Banks gave private banking investors leverage as high as 90%, which caused a lot of pain as investors had to cough up more money to fulfill margin calls."
The funds usually aim to buy and hold securities for a preset period of time. They typically offer regular payouts, but don't guarantee returns even if some cite targets.
The investors' travails highlight how the pandemic has devastated credit markets that were red-hot only a couple of months ago, when buyers were rushing into risky assets in search of extra yield. Defaults are likely to rise as economies stumble. The International Monetary Fund is predicting that the global recession will be the steepest in almost a century.
There is still "a lot of pressure" in credit markets, which means that investors could face a repeat of the events of a few weeks ago, said Banerjee. Yield premiums on Asia junk dollar bonds hit the highest in at least a decade in March, before easing a bit this month, according to a Bloomberg Barclays index. But they have starting coming back up in recent days after a historic tumble in oil prices triggered renewed risk aversion among investors.
Fixed maturity products launched in the latter part of 2019 tended to make higher allocations to Asia high-yield or emerging market bonds to enhance yields, Barclays said in a March report. About 40 to 50% of most fixed maturity product portfolios in Asia are made up of junk notes, the bank estimates.
A limited menu of options given the requirements on maturities mean fund managers sometimes need to load up on riskier notes. When leveraged investors' holdings in funds are forcibly sold off because they weren't able to meet margin calls, remaining holders are usually left with less liquid bonds.
Leverage is "generously applied" on fixed maturity funds and "any unwinds could result in sharp price adjustments" to bonds, Barclays said.