Reverse Engineering the Bloomberg U.S. Health Care Index
(Bloomberg) -- Bloomberg News recently ranked countries based on a health-efficiency index which reviews life expectancy and health-care spending measures by economy.
The U.S. was ranked below 50th in the world this year. At about 79 years, U.S. life expectancy was exceeded by more than 25 countries and territories. American life expectancy is sub-par, despite the U.S. spending the second-highest per-capita amount on health care, at $9,536.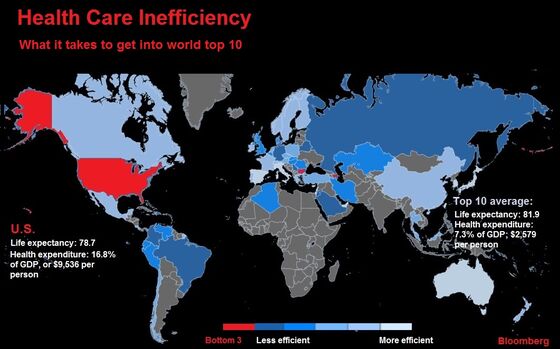 Bloomberg News scaled this calculation to gauge what would be needed to join the ranks of the top 10 most efficient health-care systems. By moving one metric while holding the others constant, making the top 10 would require drastic measures. For example, if current health-care spending were constant, Americans would have to achieve a world leading life expectancy of 84.3 years to break into the top 10. Or, if current life expectancy remained constant, spending would have to be reduced by a draconian 13 percentage points of GDP to a new level of $2,266 per person to be rated top 10.