Retailers Extend 8-Day Slide as Margin and Tariff Concerns Mount
(Bloomberg) -- The S&P 1500 Retailing Index plunged for an eighth consecutive day as the list of quarterly earnings disappointments grew and as Morgan Stanley signaled caution toward softline chains, including The Gap Inc., American Eagle Outfitters Inc. and Abercrombie & Fitch Co. amid swelling worries about rising tariffs.
With today's drop of as much as 4.1 percent, spurred by shortfalls today at Lowe's Cos. Inc., Target Corp., TJX Cos. Inc. and Kohl's Corp., the index's cumulative eight-day drop is the most since the summer of 2011, and puts it at the lowest level in about six months.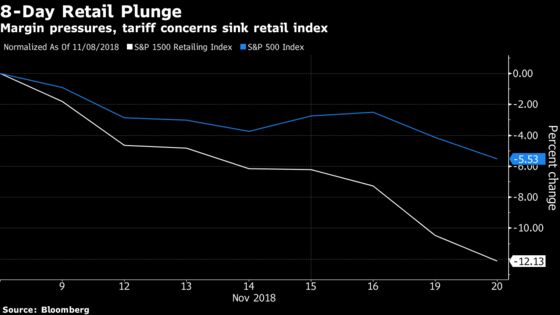 One particular area of concern this quarter has been on the gross margin line after pressure was noted in recent weeks from Walmart Inc. and Macy's Inc. Reports from Lowe's, Target, TJX and Ross Stores earlier proved this concern to be legitimate.
Meanwhile, Morgan Stanley economists argue that should the threat of increased tariffs fail to ease, supply chains aren't flexible enough to insulate companies and consumers from higher costs. The bank highlights soft-line retailers as a group with particular exposure to China, adding that in a past episode, they weren't able to pass through higher cotton prices to consumers in 2011-2012.
Fifty-eight of the eighty-five stocks in the retailing index are trading in negative territory.
Components Gap, Caleres Inc., and Foot Locker Inc. report after the close today. Dick's Sporting Goods Inc., Abercrombie & Fitch, and Express Inc. are among those that are scheduled to report before the end of the month.