Retail Traffic Fell Sharply After U.S. Coronavirus Cases Spiked
(Bloomberg) -- Visits to U.S. stores fell sharply last week as shoppers stay home because of the coronavirus outbreak, recent data show.
Foot traffic to retailers decreased 31% in the week through March 13, according to location-data provider Prodco Analytics. This marks the sixth straight week that store visits have fallen, dating back to shortly after the first case of coronavirus was confirmed in the U.S. in January.
Retailers may see even steeper dips in the coming weeks as at least five cities and states order stores to close in order to stem the virus's spread. In the past few days, many major retailers decided to temporarily shut their U.S. stores through late March, including Nike, Apple, Nordstrom, Ralph Lauren, Coach, Abercrombie & Fitch and J. Crew. Some malls have also moved to shut their doors for the time being.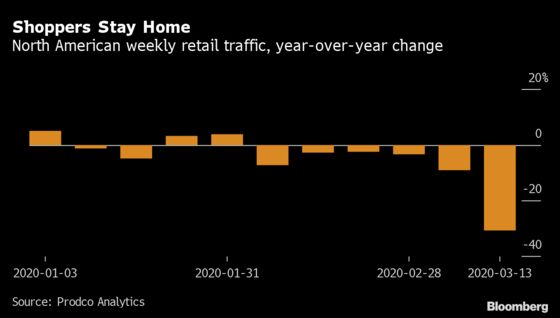 As the virus spread through the U.S., signs indicated that consumers were leaning toward shopping for groceries and cleaning supplies over clothes. This leaves apparel retailers in a precarious situation, since they've already been struggling to reverse foot traffic declines.
With brick-and-mortar locations going dark, many retailers are reminding its customers that they can continue to purchase items online.